November 30, 2009 – Chip sales continue to grow stronger, and the historically busy holiday-ramp period of October proved to be that again, according to the latest data from the Semiconductor Industry Association (SIA).
Worldwide semiconductor sales in October totaled $21.7B, up 5.1% from September and down just -3.5% from a year ago, roughly when the industry really started to nosedive. (September's Y/Y decline was a full -10%) Best growth during the month came from Europe (7.5%) this time, though the Americas region (5.9%) continues to stay above overall growth, with Asia-Pacific (4.9%) just behind the curve, followed by Japan (3.3%).
Compared with a year ago, the Americas region continues to push ahead, now 14.1% ahead of the pace a year ago; the Asia-Pacific region (-1.3%) has nearly regained its footing, and Europe (-11.6%) continues to march back. Year-to-date, total chip sales are off by about -20% from a year ago, with the Americas (-11%) well above that curve, and Europe (-31%) and Japan (26%) on the trailing edge. The three-month moving average ended in October showed ~16%-20% across all regions.
(The SIA's actual chip sales, no longer made publicly available, indicate slightly better year-to-date sales of $180.0B, down roughly -16% from the same period in 2008.)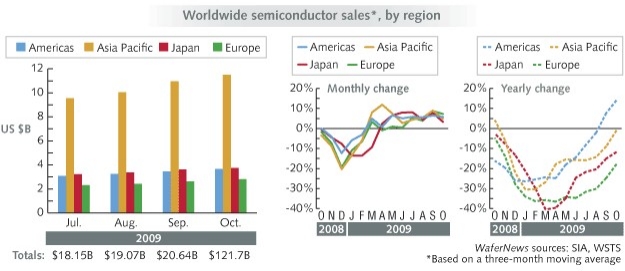 October is typically a supply-building month for the semiconductor industry as it prepares for holiday sales of devices; given the tough times earlier in the year, inventories have been stretched tight, which means the build season could extend another few weeks, noted SIA president George Scalise in a statement.
The WSTS's recently revised year-end forecast for 2009 is about -11% below 2008, improved from the midyear projection of a >20% decline. The SIA hints that year-to-date sales (Jan-Oct) were $180B; if we assume the numbers in November and December will stay safely above $20B — and the suggestion now that the build period could extend several weeks seems to assure this — then 2009 chip sales would end the year at roughly $220B vs. 2008's $248.6B, more or less the same -11% decline that the WSTS now projects. (Tallying the 3-mo. averages per month shows a slightly less rosy picture, roughly a -16% decline from 2008.)
Of course, the key unknown still is what happens with holiday demand. Initial data from the traditional Black Friday post-Thanksgiving shopping period suggests a little better consumer spending than a year ago — but it still remains to be seen whether there is solid economic confidence, to be borne out by electronics devices whisked off shelves, or cautiously left to gather dust and force an inventory burnoff after the holidays.