by Pete Singer, editor-in-chief, Solid State Technology
January 12, 2009 – Economists at the Industry Strategy Symposium (ISS) painted a positive picture for the semiconductor industry for the next few years, and for the economy in general.
Economists believe it is still too early to predict the fallout from the worst global recession in the last 63 years (the previous one being the Great Depression in the '30s). Robert Fry, senior associate economist at DuPont, said the recession is "probably over" after hitting a trough in June of 2009; 7.2 million jobs were lost in the recession that lasted at least 18 months. But the stock market is up 60%-70% since hitting bottom on March 9, 2009, he added. Duncan Meldrum, who was chief economist at Air Products for many years (now at IHS Global), said we are in the early stages of recovery. "There's a grumbling acceptance of the environment," he noted. "It's a long adjustment process and it's going to take a long time for credit markets to open up."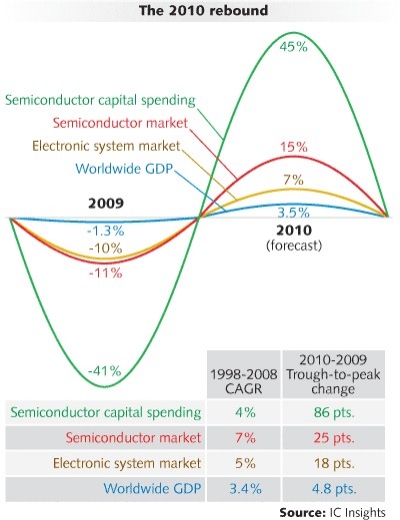 Meldrum did sound one cautionary note: He said that after major recessions in the past, the US government has created a "super-regulatory" institution, pointing to the Federal Research Board in 1907 and the SEC in 1929. He believes the creation of another such institution is possible, but if that happened it would only aid the semiconductor industry by stabilizing markets that are heavy consumers of electronics.
Macroeconomists claim they do not see the dreaded "W"-shaped recovery happening, in which today's recovery would be short-lived and followed by another recession. They are also not overly concerned about inflation, although that will depend on how the Fed acts when the recovery starts to heat up. Instead, the main fear is the risk of a "square root" type of recovery, in which a sharp recovery would be followed by a long period of flat growth. They said the most likely scenario is one similar to past recoveries after major recessions, which is best described by a "V."
Fluctuations in the housing market are likely to continue, predicted Fry: "A lot of markets tend to overshoot when they are aiming for equilibrium." He expects housing prices to continue to fall but then rebound to equilibrium levels.
Speakers noted that the stimulus money from governments has largely not yet been spent, which will continue to boost the economy. Stimulus packages include $2 trillion in the US, $600 billion in China, and $35 billion in Japan. China recently said that it would continue to move forward with its stimulus spending despite a brightening economy; the fear was that it would not.
All this is good news for the semiconductor market. Many speakers pointed to the rising standard of living in many developing parts of the world, and a general human propensity to devote whatever disposable income they have to electronic gadgets such as televisions and cell phones.
Bill McClean of IC Insights offered some extreme optimism, noting that historically global recessions have not been times of reduced demand, but instead pent-up demand. PC sales were flat during the worst global recession in 63 years, and cell phone sales were down only 5%, he said — so he's predicting a "boom" year for 2010 that will continue into 2011. Leading-edge capacity is already at around 97%, which will raise average selling prices, he added.
The lack of present capacity was countered later on in the day, however, when Norm Armour, VP and GM of GlobalFoundries' Fab 2, held up a hand-lettered sign during his presentation, saying simply: "For sale: 300mm capacity."