April 5, 2010 – Chip sales slipped a bit in February after a better-than-expected January performance, but overall the market still shows recovering demand particularly in key markets and in emerging economies, according to the latest monthly data from the Semiconductor Industry Association (SIA).
Chip sales (a moving three-month average) decreased -1.3% from January to $22.04B, compared with just $14.11B a year ago (a 56% jump), the bottom of the downturn. By region, all regions lost ground except Japan, which cut its rate of decline in half vs. January (from -2.6% to -1.1%).
Despite the declines, the numbers "reflect continued recovery of sales of semiconductors, with demand principally driven by growth in sales of electronic products in emerging economies," according to SIA president George Scalise, in a statement. Growth "in the low- to mid-teens" is projected this year for PCs and cell phones, he noted; signs indicate the global economic recovery should continue; and there continues to be "upside potential" to beat the group's initial 2010 forecast in November of $242.1B and ~10% growth.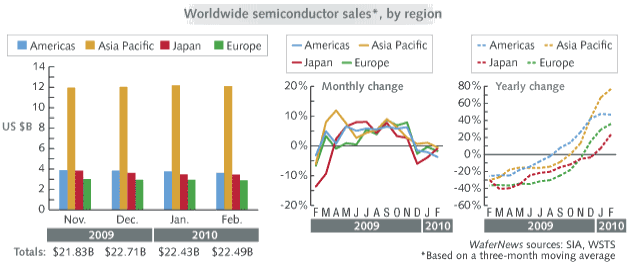 Note that in the SIA's new numbers, final January chip sales for the broad Asia-Pacific region came in lower than originally tallied: ~$5M lower for Japan ($3.47B vs. $3.52B) and about $110M lower ($12.17B vs. $12.28B) for the rest of the "Asia Pacific" region. Nonetheless this remains by far the largest chip market and a key growth area. Gartner pegs A/P chip sales at nearly $170B in 2010, up >21% from the prior year, and another 9% growth in 2011, thanks again to consumption of PCs and cell phones. Emerging markets in particular offer opportunities — e.g. India and "other" nations (e.g. Vietnam) are seen with higher CAGRs from 2009-2014 than the overall A/P's 9.4%, thanks to new and upgraded production facilities, government policies, and growing domestic demand. Look for the A/P market to top the milestone $200B level in 2013.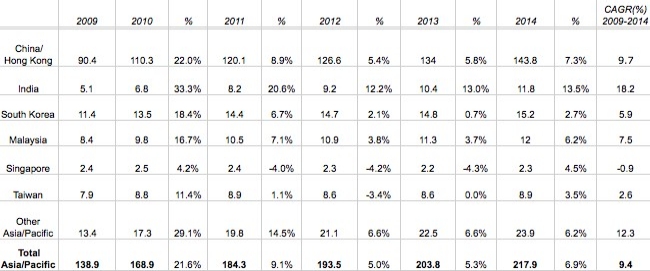 Asia/Pacific country-level semiconductor forecast, 2009-2014, in US $B. (Source: Gartner)