May 24, 2010 – New data from North America and Japan points to still growing demand for suppliers of semiconductor makers.
According to SEMI, April chip tool bookings rose to $1.44 billion, up about 8% from March; billings were even better, up more than 16% from March to $1.28B. (Both showed astronomical gains, 479% and 232% respectively, compared with year-ago industry doldrums.) A book-to-bill ratio of 1.13 means $113 worth of orders was received for every $100 of product billed during the month. A reminder that SEMI uses a three-month moving average to smooth out inconsistencies in the data (e.g. an extra few days in certain periods).
"The continuing rise in bookings and billings confirms the solid recovery in investments planned for 2010," said Stanley T. Myers, president/CEO of SEMI, calling the market's comeback "remarkable" and "encouraging."
Inside SEMI's latest numbers:
Bookings are at their highest levels since June 2007. And SEMI has added a final $20M-$50M to its preliminary tallies for the past four months.
Billings are also on a roll, with best sequential growth in nine months and at their highest level since May 2008.
The B:B has stayed above the 1.0 parity mark for ten straight months, indicating that still more business continues to come in (orders) vs. go out (sales).
Bookings have increased sequentially in 12 of the past 13 months (with the only slide a -0.3% dip in Oct. 2009). For billings, the streak is 12 in a row dating to May 2009.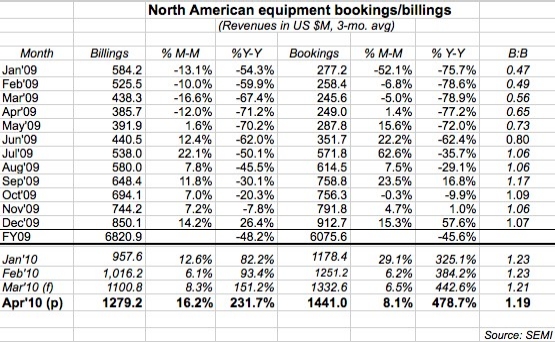 Note that by SEMI's monthly numbers, the M/M declines in bookings stopped in April 2009, and for billings in May 2009 — so one would assume the Y/Y comparisons will finally begin to look more normalized going forward.
The news is also good out of Japan, where sales of FPD manufacturing equipment spiked 12% in April to ¥93.61B (US $1.04B), and bookings rose about 3% to ¥100.25B ($1.11B), for a B:B of 1.07, above the 1.0 parity mark for an 11th straight month. (Note that this is immediately following a fiscal-year end for which there is often a push of numbers, so these numbers are even more impressive.) Note, though, that Japan's B:B has been far higher recently (1.2-1.3), so a dip to 1.07 suggests the market is coming down to earth, or finding a comfortable level of activity.
Demand for silicon wafers is also climbing steadily, according to SEMI's numbers. Worldwide silicon wafer area shipments rose about 5% in 1Q10 from the prior quarter to 2214 millions of square in. (MSI), well more than double the shipments from a year ago, and the highest shipment level in seven quarters (since 3Q08). It's the fourth consecutive month of growth in wafers, and though growth has slowed to "moderate" mid-single-digits, shipments are now approaching levels where they were before the downturn, noted Takashi Yamada, chairman of SEMI's Silicon Manufacturing Group, and GM at SUMCO, in a statement. (Note these wafer numbers are only for semiconductor applications, not solar.)