June 21, 2010 – Analysis of the latest monthly sales & order data for US-based and Japanese semiconductor manufacturing equipment shows growth slowing down — and possibly because except for some pockets, it may be time for things to pull back a little bit.
May chip tool sales totaled $1.48B, and billings were $1.32B, both up only about 3% from April. (Remember that SEMI uses a three-month moving average to smooth out inconsistencies in the data, e.g. an extra few days in certain periods.) Both still showed monstrous gains from a year ago (414% and 236% respectively), as much a verdict on a lousy 2009 as a boon 2010. The B:B ratio came in at 1.12, meaning $112 worth of orders was received for every $100 of product billed during the month.
Bookings are at their highest levels since June 2007. (For the first time all year, though, SEMI has not tacked on an extra $20M-$50M to its preliminary monthly tallies…a sign of changing times, perhaps?
Billings are also on a roll, with their highest level since April 2008.
The B:B has stayed above the 1.0 parity mark for eleven straight months, indicating that still more business continues to come in (orders) vs. go out (sales).
Bookings have increased sequentially in 13 of the past 14 months (with the only slide a -0.3% dip in Oct. 2009). For billings, the streak is 13 in a row dating to May 2009.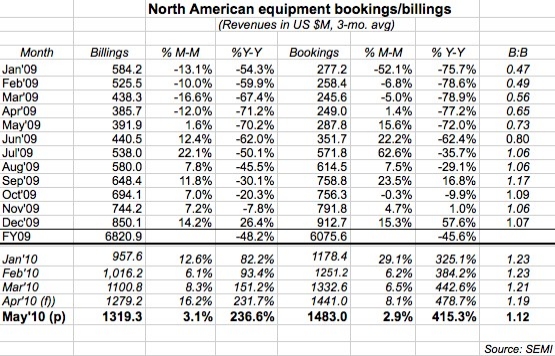 With yet another month of growth — and metrics that seem to be slowing up — is it time to ask, when is the next downturn? (That's what everyone wants to know — just ask Bill McClean!) Frontend bookings are within ~10% of the prior peak of June 2007 — and assuming wafer-fab equipment spending stays below 2007 levels, then by correlation bookings will not surpass that mark, claims Steve O'Rourke, analyst with Deutsche Bank. (Backend bookings, though, are beyond 2007 levels and approaching 2004 peak levels due to "a copper wire bonder buildout through the balance of the year.") He predicts that billings growth is now poised to overtake bookings, and pull the B:B down.
Meanwhile, in Japan, growth continues but also seems to be slowing. Orders for domestic semiconductor equipment rose 5.9% sequentially in May to ¥106.186B (US $1.17B) — 14 straight increases; while sales were practically flat (0.7%) at ¥94.233B ($1.04B), 11 straight growth months. The B:B ratio rose back up a little bit to 1.13, the 12th straight month above parity. Here, bookings growth is still well below 2007 levels — partly due to domestic companies losing market share in etch (TEL to Lam Research) and lithography (Canon, Nikon to ASML), O'Rourke notes.