July 6, 2010 – Anyone getting tired of hearing this? Global chip sales continue to climb for another month to yet another record high, and are on pace for a stellar ~30% annual growth rate, according to the latest data from the Semiconductor Industry Association (SIA).
Worldwide chip sales (a three-month moving average) bounced up 4.5% in May — about twice as much as April's 2.2% M/M growth — to $24.7B. Year-on-year comparisons are starting to fall back to earth, slightly, with "only" ~50% growth vs. May 2009, as year-ago periods start to fall further away from the slump's nadir of late 2008/early 2009.
That monthly pace keeps overall chip sales on track for the SIA's projection of ~28% growth for all of 2010, thanks to broad-based strength in sectors ranging from PCs to cell phones, a resurgence of corporate and industrial IT spending, and even automotive, noted SIA president George Scalise, in a statement. PC sales, for example, are expected to spike 20% this year; cell phone unit sales should be up 10%-12%.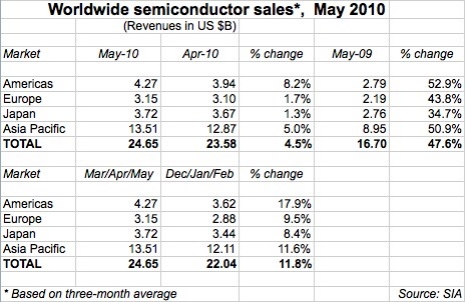 Credit Suisse's John Pitzer dug deeper, noting that the factor in May was strong ASPs (8.1% month/month, vs. seasonal 1.4%) overriding weaker units (-5% vs. seasonal 1.7%). Europe macroeconomic weakness didn't seem to have an impact, as Europe chip sales rose about in line with seasonal norms (1.6% vs. 1.5%). Taking Y/Y comparisons, the highest increases for device types were DRAM (155% Y/Y) and MCU (63%), with DSPs and logic (24%-25%) on the tail end of growth for the month. By applications, autos (87%) and industrial (62%) led the pack; communications/wireless was basically flat (1%).
If June numbers (ICs excluding memory) are to follow normal seasonal patterns, Pitzer looks for about 5.5% growth (vs. 4.2% guidance and 2.5% normal seasonal growth). And if the rest of the year falls into line with seasonal trends, look for chip sales to rise 25% — but that's below current outlooks of 28% (and some say maybe 30%+). IC unit shipments (minus memory) remain 6% below long-term trends, he points out.
But despite the ongoing rosy picture, the SIA is still cautioning against ebullience. "Growing concerns about issues such as government debt, declining consumer confidence, and pressures on government spending do not appear to have affected worldwide semiconductor sales to date, but given the semiconductor industry's growing sensitivity to macroeconomic conditions, these issues bear watching in the second half of 2010," Scalise said.