by James Montgomery, news editor
September 8, 2009 – Analysts across the industry weighed in to SST about the proposed combination of GlobalFoundries and Chartered — presented to you as the ever-popular "winners and losers" bullet points.
A short list of winners, and possible losers:
GlobalFoundries. Barely a month ago, the company took a big step forward by signing its first customer not named AMD: STMicroelectronics, for whom it will make 40nm low-power bulk silicon technology, with production planned for sometime in 2010. Now it gains access to a lot more customers (HP, Microsoft, Broadcom, and AT&T, to name a few), adds capabilities in SOC, ASIC, and ASSP, and knowledge in "how to manage multiple customers and multiple devices at the same time in a fab," noted Dean Freeman, research VP at Gartner. Joanne Itow, managing director of manufacturing at Semico Research, agrees: a weakness for GlobalFoundries "was no experience serving a foundry client base. Chartered immediately gets them in the game."

Perhaps the biggest contributions that Chartered brings to the table, notes Gartner research VP Bob Johnson, are fully developed EDA capabilities, design tools, and know-how of handling customer/design interactions. GlobalFoundries had said it would initially target companies which possessed internal design capabilities (like STMicroelectronics), and indicated that developing such capabilities in-house would take years to get in place. Not anymore.

Chartered also widens GlobalFoundries' scope to more mature technologies (200mm-300mm, 0.18μm and 0.13μm) and attract/build a base of customers in areas like power management, RF CMOS, and chips for portable communications, noted Itow. Johnson added that CHRT, as a past overflow for AMD production, also has previous exposure to some aspects of AMD's APM, which will help smooth integration. "It's not just two guys at arm's length," he told SST.

Chartered. Long a money-losing entity, CHRT gains a deep-pocketed and committed owner in ATIC, and access to even more leading-edge technology (it's already hooked into the IBM-led Common Platform alliance). With its Fab 7 approaching its max, the Singapore foundry was about to have to make a decision about how to get more 300mm capacity, either get funding to expand or hook up with a partner. Chartered customers in Europe also should be pleased to have the future option of jumping into GF's Dresden leading-edge capabilities. (Also winners: Chartered's investors, who according to local reports are thrilled, though some question the pricetag…apparently they weren't closely watching Qimonda's US-asset firesale to Texas Instruments.)
IBM. Power consolidates further within the Common Platform alliance; more of IBM's technology is proliferated, and more licensing money comes in, Freeman notes. (Having Arab oil money backing those who contribute to your R&D budget is a pleasant thing, Johnson quipped.) This high dependency has its benefits for the GF + CHRT entity, though it also presents a problem if at some point they decide to go it alone, and would have to invest heavily in their own R&D.
AMD. With other participants in the GF + CHRT umbrella, AMD is in position to probably lower its costs, explained Johnson. Assume AMD lowers to 75% of the combined entity's production (not 100%); if GF expands production, things like R&D and process costs can get amortized, and AMD's costs/wafer go down. It won't be a game-changer vs. Intel, but certainly helps the bottom line.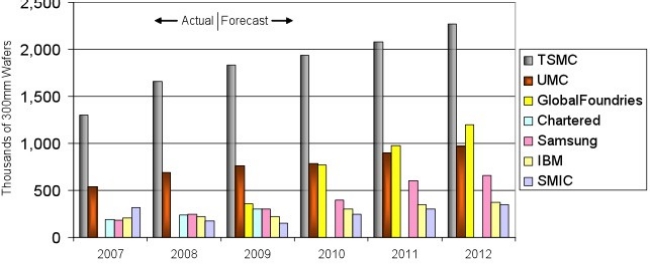 Foundry advanced capacity, 300mm wafers/year. (Source: Semico Research Corp.)
Those feeling the pinch from GF + CHRT:
TSMC. This move is "a direct challenge to TSMC," Freeman notes. TSMC probably had GF on its radar already; "now if I were TSMC I would be worried, if Chartered and GF can work together and pull this off," he told SST. Combined, GF + CHRT offer a laundry list of device types that rivals TMSC, from MPU to Power PC to Cell and SOI technology, ASIC, ASSP — and even graphics once ATI's tech is ported to GF's Dresden site.

Perhaps most interestingly, TSMC and GF + CHRT are on pace to release their 32nm/28nm process technology in the same general timeframe (2Q10-3Q10) for volume production, and with approaches to high-k/metal gate (HK+MG) — IBM's gate-first, and TSMC's gate-last. "It will be interesting to see who actually produces for a customer first," Freeman notes.

Semico's Itow pointed out that TSMC's "stumbles" with 40nm yields may actually help it with 28nm; issues reportedly ran into, such as more tightly-tuned design and manufacturing and defect detection, may provide valuable experience at this next node jump. (Chartered also has been active in working with EDA, she noted.)

UMC. The combined GF + CHRT entity will likely leapfrog up the global foundry rankings, possibly/probably into the #2 spot (see chart above). Freeman estimates that with all facilities put together, including Fab 2 in Luther Forest when it comes online, GF + CHRT "may have as much capacity as UMC" with its ~365K wspm. And by 2011, Semico predicts GF + CHRT will outpace UMC in terms of advanced capability for production. "People who saw UMC as an alternative to TSMC, now have a much more viable alternative," said Johnson. SMIC, which has battled Chartered for the #3 spot for a few years, will probably be looking up at the others; with projected capex barely 25% of its nearest rivals, its future is increasingly unclear.
All other foundries/IDMs. Fabless companies are typically loyal, but often are on the lookout for second-sourcing some of their manufacturing, and the combined GF + CHRT is now a compelling option — and maybe even a new first source. "Fabless clients concerned about Chartered's size and capability will no longer have that as an excuse to do business with the new entity," Freeman notes.

Semico's Itow also pointed out that Japanese chipmakers have struggled for years with off/on attempts at joint chipmaking efforts, and finally might see the wisdom in looking outside for partnerships. And sure enough, Toshiba is reportedly is in talks with GlobalFoundries and Chartered to offload some — or all — of its forthcoming 28nm production.