September 14, 2009 – A 2H09 rebound in the chipmaking equipment sector won't be enough to make up for the horrid performance in late 2008 andearly 2009, but analyst firm Gartner does see much better times in 2010 and beyond, according to its newly updated forecast.
Gartner now says equipment purchases will drop about -48% in 2009, vs. an anticipated -45% seen in mid-June — and that's even with a projected 47% spike in 2H09. Look for sustained growth moving through 2010, reflecting a projected 34% increase in the chip market, Gartner says. These tool purchases will be mainly technology buys (vs. capacity additions), mainly at Intel, Samsung, and TSMC: memory companies prepping to introduce copper interconnects, and everyone ramps double-patterning lithography for 5x-4xnm nodes, and leading-edge chipmakers ramping up 32nm and even 28nm production, notes Gartner research VP Dean Freeman. Toward the end of 2010 capacities will ramp up again, reflecting more spending by businesses and consumers, and more consistent worldwide semiconductor industry growth.
For comparison, Gartner's new 2009 forecast for overall capex is about -$1.4B or -6% below what it expected in June; but through the rest of the forecast period (2010-2013) Gartner's forecast numbers have been raised ~4%-7%.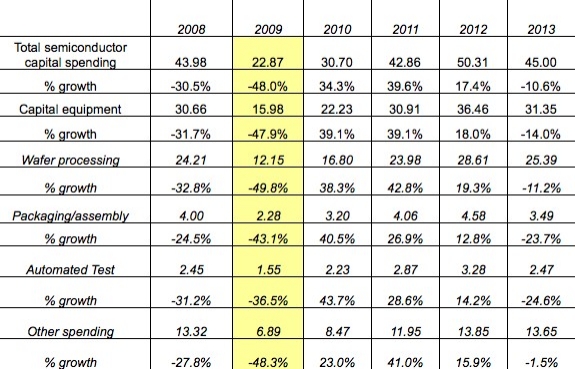 Worldwide semiconductor capital equipment spending forecast, in US $B. (Source: Gartner)

Once 2009 is in the rear-view, chip tool purchases should enjoy two years of solid growth (35%-40%) until the next slowdown (17% in 2012) and inevitable memory-sector overheat projected in 2013, according to Gartner's estimates. The peak of the growth in 2012 won't equal the levels seen in 2007 — expect some consolidation in equipment segments as companies struggle to stay profitable, Freeman says in a research note.
Among the trends divined from the numbers is that, as is consensus among most industry watchers, the bottom appears to have been reached in 2Q09 (as usual, led by backend activity in ATE and PAE), with a strong bounceback in 3Q and good but less growth in 4Q — which means the annual holiday/post-holiday 4Q-1Q period that sets the table for the next year will be even that much more anticipated. And growth over the next couple of years won't be "smooth," Freeman says, pointing out that he expects "seasonal slowness" to follow the "strong upswing" in 2H09.