by Debra Vogler, senior technical editor, and James Montgomery, news editor, Solid State Technology
Judging by several key metrics, the semiconductor industry is fully in the midst of a strong rebound, according to Bill McClean, president of IC Insights, who discussed the company's updated research at its fall forecast seminar (Sept. 17, Sunnyvale, CA).
With quarterly IC unit volume shipments at 41.5B (billions of units) forecast for 3Q09 and 35.3B in 2Q09, the industry is already in a V-shaped recovery, said McClean, citing WSTS statistics; he projects 9%-10% long-term CAGR for IC units. But with record low capex as a percentage of sales budgets, not only will there be the inevitable higher fab capacity utilization rates, but IC manufacturers will have increased pricing power — he projects long-term stable-to-increasing IC ASPs and IC market CAGRs of 8%-10%.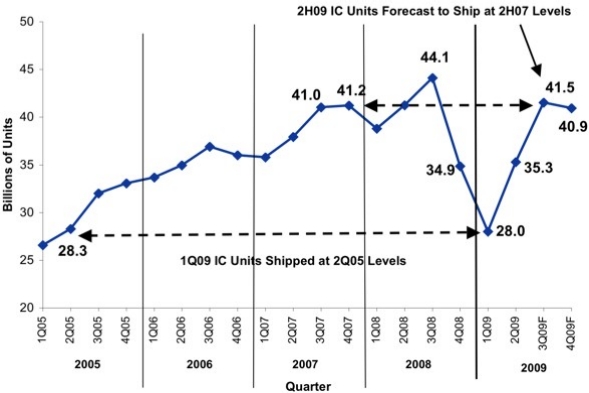 Quarterly IC unit volume shipment trends. (Source: IC Insights)
July IC sales and unit volumes show the upturn spans much of the IC industry and product lines (DRAM, NAND flash, analog, MPUs); the key is to look not at numbers vs. a year ago — which will be lousy for just about every industry, not just ICs (and some far worse) — but look at IC markets' progress since the beginning of 2009, a "think quarterly" mantra. Growth has been nothing short of "explosive" since January for those four segments both in dollars and unit volumes, and signs point to continued strong growth extending into 2010 and even 2011.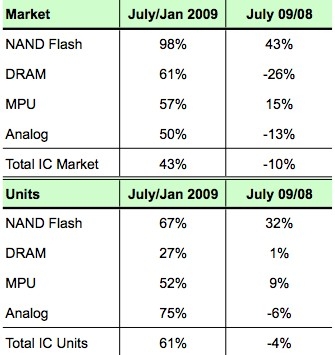 (Source: WSTS, IC Insights)
This growth causes problems given how much production capacity has come offline since late 2008. Utilization rates, which had immediately plunged below 60%, have rebounded back up to nearly 80% and could push 90% by year's end. With IC unit demand still going up, and capex for new/upgraded capacity still sluggish, utilization rates could very well max out soon — meaning longer lead times, spot shortages, and increasing average selling prices. That's a lot different environment than what gripped the industry just a few months ago.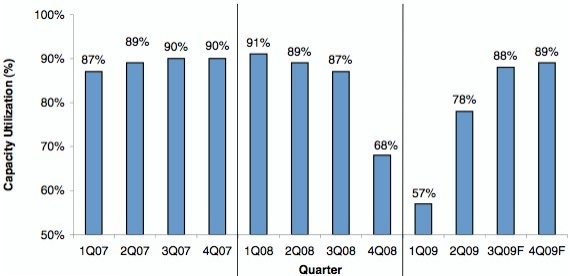 IC capacity utilization trends. (Source: SIA, IC Insights)
Putting some of these trends together, McClean noted that capex per IC unit shipped is forecast to be only about $0.19 in 2009, equal to about $27B worldwide, which represents ~12% of semiconductor sales — and that's troubling, less than the lowest capex spent in the 1980s. "We don't know the ramifications of a capex so low," he said. "The industry is totally out of sync. It will be a disaster for 2010, and 2011, and 2012." He added that passive components have already gone on allocation and "ICs usually follow…we've never been here before." Also noteworthy is that the top five companies will spend almost half of the forecast capex in 2009 — two years ago that percentage was about 42%. "The big get bigger, and the small ones try to go fab-lite or fabless." The winners will be the IC manufacturers — but the buyers for such chips will not be as happy to pay more.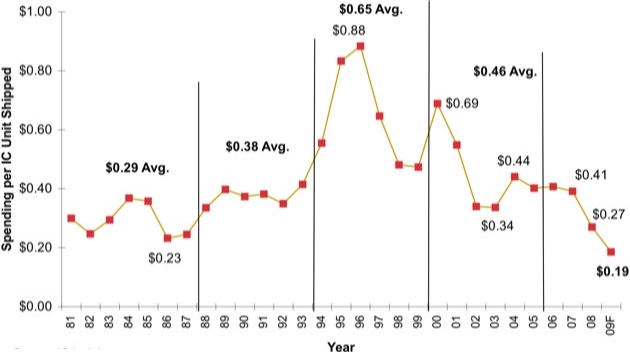 Semiconductor capital spending per IC unit shipped. (Source: IC Insights)