October 21, 2009 – Semiconductor tool orders in September showed year-on-year growth for the first time in nearly two-and-a-half years, more evidence that the industry is climbing out of the deep hole in which it's been mired, according to the latest monthly data from SEMI.
Worldwide bookings in North America surged to nearly $733M in September, up more than 19% from August; billings rose to nearly $625M, a nearly 8% increase. And we're finally emerging above water from the beginning of the downturn — bookings were nearly 13% higher than they were in September 2008, the first Y/Y increase since May 2007, and the biggest comparison since January 2007. (The ~8% billings growth would have been even sweeter, except SEMI's finalization of August numbers upwardly revised the billings by nearly $15M; that improved August's sequential growth to 7.5% instead of ~5%, and raised the B:B to 1.06 from 1.03.)
Put them together, and the Sept. book-to-bill ratio was a sparkling 1.17, the highest it's been since Jan. 2008 and the first three-month string of parity since summertime of 2006. That's $117 worth of orders for every $100 worth of product billed for the month, a ratio that continues to indicate more business coming in than going out.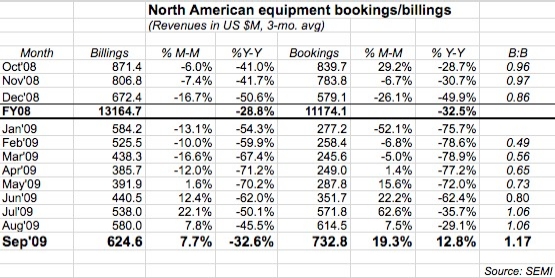 More evidence that the industry is recovering, slowly: unofficial tally of 3Q09 data (adding the three individual months of July-August-September) gives $1919.1M, which is more than double the bookings in 2Q09 and 73% higher than 1Q09. Sales (which by definition trail orders) also showed growth, up 43% vs. 2Q and nearly 13% higher than 1Q. And tool sales in Japan continue to rev up too, according to the monthly tally from the Semiconductor Equipment Association of Japan (SEAJ). Tool orders in September ramped about 11% to ¥61.567B, while sales spiked about 25% to ¥48.219B, keeping the B:B above parity (1.28) for a fourth consecutive month, the SEAJ notes.
While digesting the tasty news of improving demand and toasting the return of Y/Y growth, let's not forget to chase it all with a bit of cold water. Growth is good, but we need a lot more of it to achieve levels of sustainability for the industry as a whole — or even find a new level to reset at — especially for a growing number of suppliers and chipmakers who are still clinging on by fingernails (Electroglas being the most recent casualty).