October 6, 2009 – Among a spate of presentations at this week's annual IMEC Technology Forum in Belgium, the European R&D consortium trotted out a new program for foundries and fabless companies, an "incubation" pact with TSMC, and developments in multithreading and radio chips. Other news out of ITF involved solar and medical device technologies.
Bridging the IC gap with INSITE
A new addition to IMEC's industrial affiliation program, the Integrated Solutions for Technology Exploration (INSITE) program is a framework within which fabless and fab-lite companies, foundries, and EDA firms can work on early product developments that are "one to three generations ahead of IC manufacturing," to design either in process technologies from IMEC's core CMOS research program or "more imminent foundry-level technologies." The program's modular framework incorporates a design interface, circuit level IP generation, and pathfinding, with fabrication/measurement of 200mm-300mm-based test circuits in IMEC's facilities.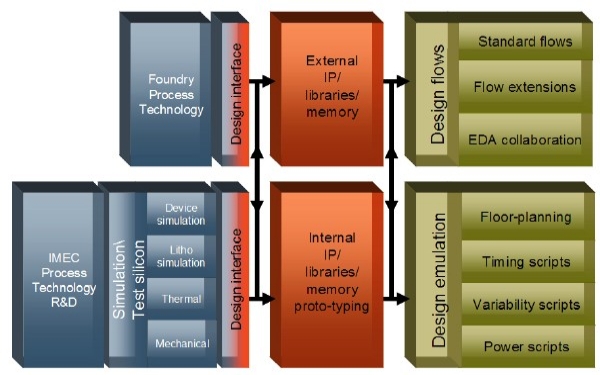 IMEC's INSITE framework of extensible, flexible modules. (Source: IMEC)
The goal, according to IMEC, is to stem two trends that are creating a "growing knowledge gap" between digital CMOS producers and users. The first is a move to separated foundries and fabless design houses and away from integrated design/manufacturing. Each side may have different needs and questions, but "the solutions to their questions require collaboration and dialog between all parties" notes Phillip Christie, principal researcher at IMEC, in a statement.The second trend is an evolution toward more application -specific technology offerings where specifications such as speed, power, area, and cost can't be achieved with the same technology.
Incubation with TSMC
Another thrust into leading-edge chip development is a new "Innovation Incubation Alliance" forged with TSMC, to combine IMEC's design/R&D and TSMC's high-volume manufacturing. The partnership provides access to technologies from IMEC's CMORE initiative — e.g., various flavors of IMEC's "Moore than Moore" offerings, ranging from mixed-signal to 3D-technologies, MEMS processes, Si photonics, and BiCMOS/HV — through product concept validation (QC, design & test, packaging, reliability), low-volume manufacturing at IMEC, and transferral to high-volume manufacturing at TSMC.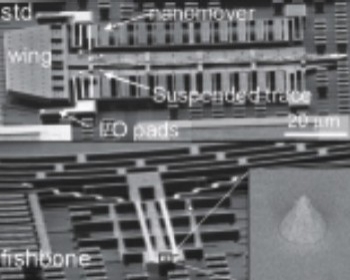 XSEM overview of IMEC's standard and fishbone cantilever designs with suspended Pt trace and sharp tips. (Source: IMEC)
"We are convinced that by joining our strengths, the IMEC-TSMC Innovation Incubation Alliance will offer customers an industry wide platform to rapidly bring innovative products to market," said Maria Marced, president of TSMC Europe, in a statement. "By linking IMEC's R&D skills with TSMC's manufacturing skills during the product development phase, the transition of More-than-Moore technologies to high volume manufacturing will accelerate," added Luc Van den hove, IMEC's President and CEO.
Multithreaded processor architecture
IMEC also unveiled the 40nm-based, 2nd generation of its "architecture for dynamically reconfigurable embedded systems" (ADRES), with double the performance and energy efficiency (600Mbps 802.11.n on two cores, 220mW power use) than its predecessor and added support for multithreading. The technology, ready for licensing to chip manufacturers, is billed as "a building block for future 4G devices" such as mobile terminals including software-defined radios, and is "a stepping stone" to research into building a baseband processor that can support full 4G requirements: gigabit/sec wireless connectivity, runtime resource management, and support for 4×4 MIMO and latest WiFi/LTE standards.
Liesbet Van der Perre, director of IMEC's wireless communications program, noted a proof-of-concept 40MHz WLAN MIMO reciever has been mapped, and that next year ADRES will be extended with wide SIMD (vector instructions) to better energy efficiency another 30%.
Custom-designed radio ICs
Meanwhile, IMEC and spinoff AnSem are collaborating to offer services for custom designs of radio ICs, for companies who want to outsource design and development of what they've done with IMEC's research into communication ICs. Offerings include: IMEC's first-generation flexible radios, reconfigurable transceivers tunable for any cellular, WLAN, WPAN, broadcast, and positioning standards.
"Both IMEC and AnSem bring their complementary expertise to the table," noted Stefan Gogaert, CEO of AnSem, in a statement. "IMEC has a strong background in technology innovation and exploration, while AnSem is the expert in design services for analog and mixed-signal ICs. The combination is a unique customization and productization offering."
The service "lowers the threshold for companies to launch innovative communication products, and reduces the risk, effort, and time to market," added IMEC's Van der Perre.