October 9, 2009 – Growth might be returning to the semiconductor industry, including the foundry sector — but the landscape emerging from the horrid downturn is about to change dramatically, according to a recent analysis from iSuppli.
"The year 2009 is likely to be one that pure-play foundries would love to forget and will make them long for 2010," wrote Len Jelinek, iSuppli's director and chief analyst for semiconductor manufacturing. "However, next year is likely to bring a new set of challenges, as the rising cost of competition winnows down the number of players in the market." Only those who are able to compete "at the cutting edge" of leading technology nodes — and support the cost of doing so — will survive, he claims. Yes, some foundries have carved out a nice living in niche areas with low-cost manufacturing and trailing process technologies. But those in between, which he calls "fast followers" who trail after the leading-edge foundries' with their own process migration, will find that strategy is "a route to the fringes of the semiconductor manufacturing business."
Musical foundry chairs
So what changes are afoot, and where? In China, look for a combined Hua Hong NEC and Grace Semiconductor, and possibly SMIC buying Cension and Wuhan Xinxin, two smaller companies it already helps run. In Taiwan, UMC wants to formally take over its Chinese partner HeJian Technologies, which would cement its place as the No.2 pure-play foundry. (GlobalFoundries preemptively grabbed that spot when it acquired Chartered a few weeks ago.) Smaller foundries including Silterra, Altis, and Landshunt are also the target of speculation in what Jelinek says will be "a spate of mergers and acquisitions" in 2009 (and this could actually be backdated to 2008, when Tower Semiconductor bought Jazz Semiconductor, he points out).
While foundry consolidation might be a rough ride, business is actually good, helepd by IDMs expanding their asset-light programs, Jelinek notes, and end-product design and manufacturing technology continue to march forward. "As consumers return to stores, this innovation likely will result in new and different products on the shelves, helping to sustain some semblance of recovery — even if it is delayed into 2010," he notes.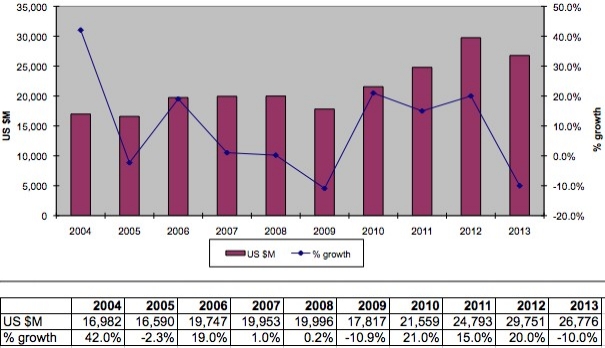 Global pure-play semiconductor foundry revenue forecast. (Source: iSuppli)