October 13, 2009 – GlobalFoundries has signed a &euro550M contract with M+W Zander to engineer and build its Fab 2 300mm/28nm wafer facility in New York State.
The "full turnkey" deal covers everything about the site's construction, from architectural and engineering services to construction management for the whole project, and general contracting for technical areas (manufacturing spaces, building utilities, central utility, and process systems).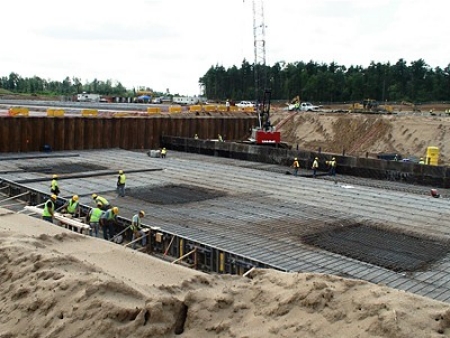 Source: Fab2construction.com
The site will incorporate four major buildings with combined >130,000 sq. m, including 28,000 sq. m of Class 100 cleanroom wafer fab. Construction is slated to take about two years, plus 12-18mos to ramp to full operating mode, to meet a 2012 production startup time.
Milestones for the fledgling Fab2 construction, reached so far this year:
– June 15: Site work start. Clearing, grubbing and grading operations initiated. Final site plan application approvals received from the Towns of Malta and Stillwater.
– July 24: Groundbreaking ceremony, with local and state officials including Governor Patterson.
– August 21: Building permits issued for Fab/spine and central utilities building.
– August 28: Construction begins of temporary office building for management and support staff.
– September 9: – Initial 2500 cubic yd. foundation poured, using material from on-site concrete batch plant.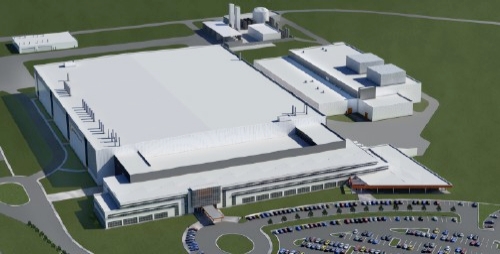 Architectural drawing of Fab 2, Module 1. (Source: GlobalFoundries)