October 5, 2009 – Global semiconductor sales continued to rebound in August, rising 5% from the previous month, according to the latest data from the Semiconductor Industry Association (SIA).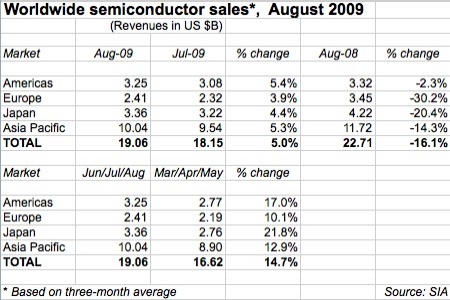 Chip sales in August totaled $19.1B, vs. $18.2B in July. That's two straight months of ~5% growth to start the third quarter of 2009.
Things are still down from a year ago (-16% in August 2008's $22.7B), and year-to-date chip sales through August were $133.8B, about -21% below Jan-Aug. 2008 — but we're nearing the point where things really started to go south a year ago, though, so the Y/Y comparisons should continue to markedly improve.
Of note in the August numbers are slight improvements across all regions. Over the past month (data is a three-month moving average), noticeable pickups were seen in both Europe (5.3% growth, vs. 3.9% M/M growth in July) and Japan (7.9% vs. 4.4%).
Concerns have been floated about chip sales reflecting inventory restocking instead of a true end-demand pull, and a decline in Asia-Pacific chip sales might reflect this. A-P sales growth in August slowed a bit to 4.3% from 5.3% in July; for the moving three-month average, A-P growth dropped slightly from 14.6% to 12.9%. Improvements in other regions, though, kept the total three-month average numbers at nearly 15% growth (June-July-August vs. March-April-May).
Indeed, in an analysis of the SIA numbers, iSuppli says the strong sequential growth in July and August should pave the way for >10% growth in all of 3Q09 — but that's largely due to an inventory rebuild, and in fact chip sales in 3Q will exceed true demand by about 3%.