October 30, 2009 – Xerox researchers say they've development a new silver ink to print conductors, the third required material necessary for printing plastic circuits to replace silicon.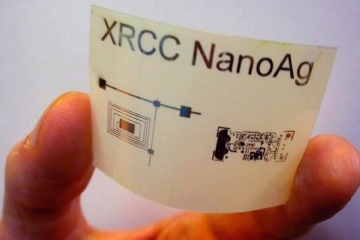 "For years, there's been a global race to find a low-cost way to manufacture plastic circuits," said Paul Smith, laboratory manager at Xerox Research Centre of Canada, in a statement. "We've found the silver bullet that could make things like electronic clothing and inexpensive games a reality today," and enable capability for low-cost printed electronics on a wide scale of materials.
ICs consist of three components: a semiconductor, conductor, and dielectric element. The new Xerox work involves creation of a silver ink to print the conductor like a continuous feed document — using conventional inkjet printing methods — without requiring a typical semiconductor fab cleanroom. Researchers also have improved their existing semiconductor ink to be more reliable, formulated so that molecules precisely align themselves in the most electrically-conductive configuration.
Applications for easily-printed electronics abound: low-cost RFID tags, e-readers and signs, sensors, solar cells, and even textiles/wearable electronics woven into clothing. "We will be able to print circuits in almost any size from smaller custom-sized circuits to larger formats such as wider rolls of plastic sheets — unheard of in today's silicon-wafer industry," stated Hadi Mahabadi, VP and center manager of Xerox Research Centre Canada.
R&D samples are available by contacting the company.