November 9, 2009 – The suffocating downturn will make 2009 overall one of the toughest in the industry's history, but four firms are still in position to increase sales from a year ago, based on year-to-date tallies compiled by IC Insights.
Since the market hit its trough in 1Q09, 15 of the top 20 semiconductor companies in terms of sales turned around with double-digit growth in 2Q, and 17 followed up with double-digit growth in 3Q as well (11 were >20%), according to the analysis firm. (Even at the other end of the scale, Sony and Freescale saw 1%-2% declines in 3Q but managed to bounce back in 3Q.) In total the top 20 firms enjoyed nearly 20% growth in both 2Q and 3Q, reaching nearly $110B in sales, according to the analysis firm.
Leading the way are the big memory firms as the DRAM and NAND flash markets bounced back: Samsung has enjoyed 29% and 26% growth in the past two quarters, with Hynix rebounding even better (40% and 31%), and Toshiba turned in a 30% spike in 3Q. (And just looking at 3Q09, Elpida would push Freescale out of the top 20, with a 30% Q/Q spike.)
Fabless/foundry firms also have recovered nicely; TSMC nearly doubled its sales in 2Q09, while MediaTek jumped eight spots in the past year to #17 overall (Qualcomm headed the other way, down -5% in 3Q.) Overall,
Even though the downturn saw a turnaround in 2Q09 with a phase of inventory replenishment and a return to seasonal demand in 3Q09, the depth of the downturn is expected to keep the entire industry's full-year 2009 performance in the negative, at -12% one of its worst historically, according to the firm. But four of the top 20 firms are expected to actually turn in positive growth: Samsung, Toshiba, Qualcomm (even with its -5% dip in 3Q), and MediaTek.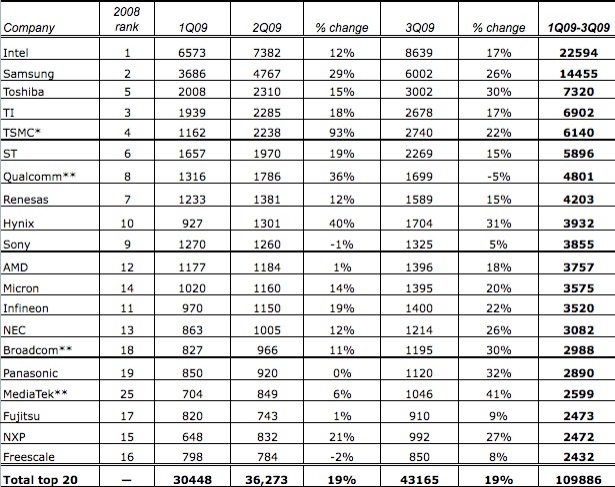 Top 20 semiconductor sales, 1Q09-3Q09 in US $M. (Source: IC Insights)