November 17, 2009 – Gartner has added its updated chip forecast to the chorus of renewed optimistic outlooks. The firm is reducing its 2009 decline expectations to -11.4% (vs. -17%), and says 2010 chip growth will bounce back 13% to 2008 levels of $255B.
Generally speaking, "inventory replenishment, government stimulus packages (especially in China), and outstanding price elasticity on consumer products" have driven the recovery; chip sales rose nearly 17% in 2Q09, nearly 20% in 3Q, and 4Q projections are also "well above the seasonal norm, signaling continued expansion," notes Bryan Lewis, research VP for Gartner, in a research note. PCs in particular are leading the charge — unit forecasts now call for a low-single-digit decline instead of the double-digit decline expected earlier in the year. Application-specific standard processors (ASSP), memory, and MPUs are all blossoming thanks to the resurging PC market, and for ASSPs and NAND flash thanks to an improved outlook for cell phones.
Looking at memory specifically, strengthening pricing means the sector is gaining steam; some vendors actually turned a rare profit in 3Q09, Lewis noted. That's good news — up to the point where memory firms start getting confident and investing in more capacity perhaps sooner than they had expected, which is likely to lead to yet another oversupply situation in 2012-2013.
The good news does come with a caveat. "Recent channel checks in Taiwan indicate there is concern that PC orders are slowing earlier than the seasonal norm and that 2010 may get off to a slow start," Lewis notes.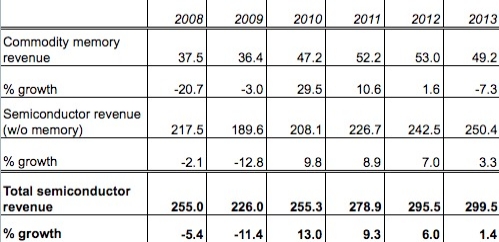 Worldwide semiconductor revenue forecast in US $B, 2008-2013. Commodity memory is DRAM and NAND flash, excludes other types of memory. (Source: Gartner)