November 20, 2009 – The good news continues to shine in semiconductor equipment demand for suppliers in North America and Japan, according to the latest monthly data from SEMI and the SEAJ, though some softness may warrant some attention heading into the holiday season.
North America-based manufacturers of semiconductor manufacturing equipment received $756.2M worth of orders in October, about flat with September's revised levels and just (barely) single-digit decline from a year ago. Billings also continued to improve Y/Y. now about -21% off, and still show M/M growth (though declining).
Japan, too, continues to see significant improvement in its chip tool sector, according to the Semiconductor Equipment Association of Japan (SEAJ). October bookings and billings (worldwide) were both up about 8% vs. September, to ¥66.42B and ¥48.22B, respectively, for a sparkling B:B of 1.28. It was the first Y/Y rise for global orders for Japan-made chip tools in 31 months, according to the SEAJ, though it cautioned against placing too much significance since the industry was well entrenched in its slump at this time a year ago.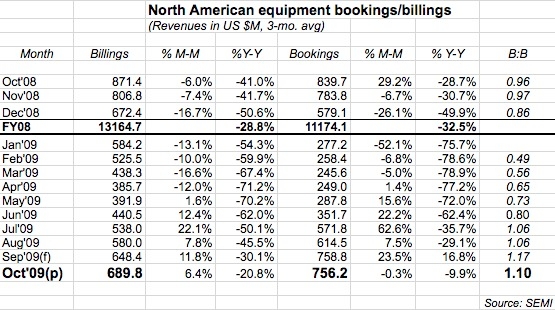 The good news, from SEMI's numbers:
– Revised numbers for September were a little better than previously thought, about 3%-4% higher (bookings $758.9M vs. $732.8M, billings $648.4M vs. $624.6M), which translated into similar improvements in September's M/M and Y/Y comparisons.
– The book-to-bill ratio (B:B) has stayed above the parity mark for four months now; October's B:B of 1.10 means $110 worth of orders for every $100 worth of product billed for the month, a ratio that continues to indicate more business coming in than going out.
Things to watch:
– After finally showing sequential M/M growth to close the third quarter, bookings slipped back to a decline in October, a fact that bears watching, noted SEMI president/CEO Stanley Myers. He noted the group still continues to cautiously expect "slowly improving capital spending" for the rest of this year and into 2010.
– While suggesting an ongoing "slow" recovery, SEMI's September revisions actually suggest the month was even more off-trend — nearly 17% M/M increase in orders and 12% in sales is well above previous months. With the holiday seasons coming up — and probably with extended downtime for suppliers still feeling pains from the downturn — it's unlikely they'll see business churn up again in the next couple of months.