November 20, 2009 – Things have picked up dramatically in the past few months, according to World Semiconductor Trade Statistics (WSTS) organization, which has doubled (and in some cases, tripled) its outlook for various chip industry segments in 2010.
Like other industry watchers, the WSTS now projects 2009 chip sales to be far better than expected just a few months ago: about an -11% decline from 2008, instead of fears of a >20% decline forecasted in the Spring outlook in June. Data for the US is particularly encouraging, suggesting just a -1% drop in annual chip sales, vs. the -15% expected just five months ago. "The organization believes that the industry has bottomed and momentum is now heading in a positive direction," the WSTS said in a statement.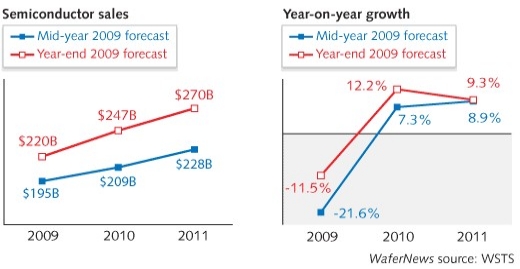 Growth will return nicely in 2010 at about 12% to about $247B, 18% higher than the July estimates, as all regions surge back into growth, led by the far largest region of Asia-Pacific which will swing to 13.5% growth from -53% in 2009.
The WSTS sees 9% growth in 2011 to $270B (also 18% higher than its Spring forecast), with all technology segments bunched up around that growth pace. The three-year compound growth from 2008-2011 is pegged at 2.8%, even including the disastrous past year.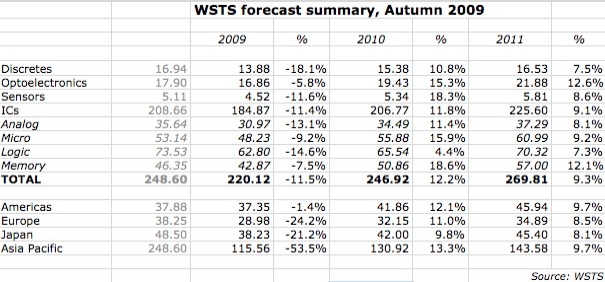 Often when a year's forecast is improved, it's because positivity was shifted from the following year so the pair balance out. Not so with the WSTS' latest forecast — though it now sees growth in the teens for nearly every segment in 2010, it has kept its 2011 outlook generally unchanged, and even improved in a few sectors. Memory and opto, for instance, are both seen with >12% growth in 2011, better than July's outlooks of around 8%. The 2011 outlook has been lowered but only slightly for discretes (7.5%, vs. 8.3% in earlier forecast), analog (8.1% vs. 8.3%), and micro (9.2% vs. 9.8%) and logic (7.3% vs. 8.7%) — though it's worth noting that micro and logic together make up roughly half the industry.