December 21, 2009 – Semiconductor manufacturing equipment demand slowed a bit in November but still kept up a pace of growth, lending more weight to the outlook for improved fab spending heading into 2010, according to the latest data from SEMI and SEAJ.
According to SEMI's latest numbers (three-month moving averages), orders for semiconductor manufacturing equipment reported by North America-based suppliers totaled about $790.5M, up about 4.5% from October and just under 1% growth compared with Nov. 2009.
Equipment billings in November totaled $743.7M, about 7% higher sequentially and just about -8% lower than a year ago — that's the first time the Y-Y comparison has been a single-digit decline since March 2008.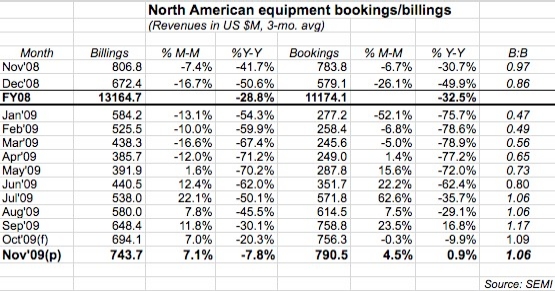 And the book-to-bill ratio (B:B) has stayed above the parity mark for five months now; November's B:B of 1.06 means $106 worth of orders for every $100 worth of product billed for the month, a ratio that continues to indicate more business coming in than going out.
Widening the view to the entire 3Q09, equipment bookings nearly doubled from the prior quarter to $5.83B, and rose about 4% from 3Q08. Billings rose about 69% Q/Q to $4.54B, though that's -31% lower than a year ago. These numbers were compiled jointly by SEMI and the SEAJ, representing monthly data reported by 110 global equipment companies.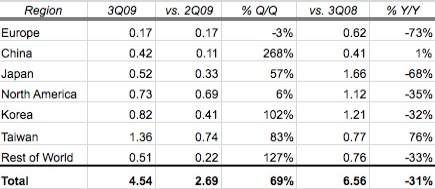 Quarterly billings data by region, in US $B. (Source: SEMI)
Demand in Japan for semiconductor manufacturing equipment also slowed, but is still on an upward trend, according to numbers from the Semiconductor Equipment Association of Japan (SEAJ). Global orders reported by Japanese-based manufacturers totaled ¥70.016B (US $775.0M), up about 5.4% from October and nearly 38% from Nov. 2008; billings rose roughly 15% month-on-month to ¥59.42B ($656.4M), though that's down about 12% from a year ago.
The November equipment demand picked up slightly compared with the flatness seen in October, and its "relatively slow but steady" pace continues to track inline with a forecast of improving spending heading into 2010, noted SEMI president/CEO Stanley Myers, in a statement.