December 14, 2009 – The latest semiconductor capital spending forecast from Gartner solidifies the 2009 outlook with another positive bump-up, and the firm sees the climate significantly improving for almost all sectors well into the future.
The industry is enjoying "a very strong growth spurt" right now, noted Dean Freeman, research VP at Gartner. Foundries and a few memory companies started spending again in 2H09, and 1H10 will see an influx of technology upgrades; after a possible lull in 3Q10, look for capacity upgrades to ramp up into 2011s, he says.
After another dismal year in 2009 expanding on 2008's dropoffs, every equipment sector will enjoy serious double-digit growth in 2010 — some above 50%, according to Gartner's statistics. Wafer-fab equipment spending is seen surging nearly 57% (vs. a prediction of 38% just three months ago). The big question for this sector will be availability of 193nm immersion lithography tools, seen as critical for all technology upgrades — TSMC, for example, will be installing its first such tools, and leading-edge DRAM makers will move into the 4xnm range which also require the immersion tools. Gartner doesn't predict a shortage yet, but long lead-times could limit WFE growth if demand continues to heat up.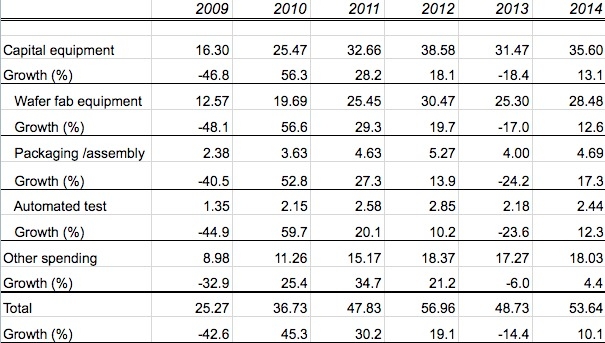 Worldwide semiconductor capital equipment spending forecast (US $B), 2009-2014. Some totals may differ due to rounding. (Source: Gartner)
Demand in the packaging/assembly sector will be overall very good (53% in 2010), but vary by certain equipment segments — e.g. advanced processes such as wafer-level packaging, 3D processes, and through-silicon vias (TSV), will require more investments going forward than the general market. Automated test equipment spending will surge nearly 60% in 2010, mainly due to the transition to mainstream adoption of DDR3 memory.
Another trend worth watching is industry consolidation, which has been seen in several examples following the past year's meltdown and will likely continue, notes Gartner research VP Bob Johnson. "The impact of fewer equipment customers will continue to play out in the semiconductor equipment market and further consolidation is to be expected, with mergers and acquisitions, as well as companies closing down that can no longer afford to run a business in the semiconductor industry," he writes. "While initially this may seem to be a dark time for the equipment segment, as the industry consolidates a much stronger equipment sector will emerge to carry on in the future."
A few bits of explanation on the numbers (especially changes since the Sept. forecast), from Gartner's Freeman, in an e-mail exchange with SST discussing the new numbers:
– A "rapid ramp" in 2H09 justified Gartner's improved outlook for total capex in 2010 vs. its September outlook — but peeling the data into quarters, "you will find that growth is actually relatively flat coming off of 4Q09," Freeman noted. "2009 could see improved growth due to when revenue is taken/given by the equipment companies from the memory companies."
– Note that while outlooks have improved for almost every semiconductor equipment sector vs. Gartner's September report, there is one exception: automated test has had its outlook reduced not just for 2009 but the entire forecast period (see table below). "ATE spending declined mostly as a result that memory test has completely collapsed," and DDR3 ramps in 2009 "failed to materialize," Freeman explained. "The consolidation in the memory test space and improvement in test techniques will keep this growing at a lower pace than before."
– On the other hand, a substantial rise in "Other" capex, which is tied to buildings, software, etc., equates to a ramp in fab building, Freeman noted.
– Can we trust chipmakers — particularly historically gluttonous memory firms — to keep cool and not overheat the industry again, leading to more abrupt slowdowns and protracted downturns, as we've been predicting/hoping they would for years now? Memory badly overspent for capacity in the most recent cycle, creating a two-year downturn, Freeman noted, and it will once again build excess capacity — but this time "it will be a more muted cycle than previous ones," he predicts, which will narrow declining investments (and equipment sales) to just a single year instead of two deep years.

Changes in Gartner's forecasted semiconductor capital spending, Dec. 14 vs. Sept. 11.