January 25, 2010 – Demand for semiconductor capital equipment continued to increase in the final month of 2009, and with the key book-to-bill ratio now six straight months above parity suggests growth still lies ahead, according to the latest industry data.
According to SEMI, orders for semiconductor manufacturing equipment reported by North America-based suppliers totaled about $863M, up about 9% from November and more than 49% better than Dec. 2008. Billings of $842M rose about 13% sequentially and were up more than 25% compared with a year ago. Both statistics are based on three-month moving averages.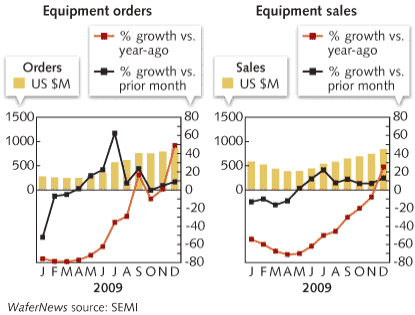 The book-to-bill ratio, though still above parity for a six straight month, actually slipped a little bit to 1.03, meaning $103 worth of orders was received for every $100 worth of product billed for the month, a ratio that continues to indicate more business coming in than going out. Signs continue to point to the industry increasing spending on technology and filling out capacity to produce semiconductor devices, noted SEMI president/CEO Stanley T. Myers, in a statement.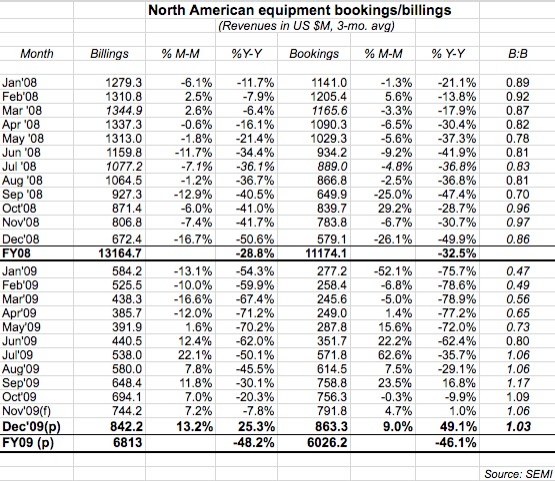 Meanwhile, in Japan, semiconductor equipment demand kept climbing in December as well. bookings rose more than 10% to ¥77.386B (about US $861M), while billings were up about 4% from November to ¥59.557B ($663M); the B:B thus rose slightly to 1.30, staying true to roughly where it had been for most of 2H09. Comparisons with a year ago, when the depth of the market's tanking was just starting to be understood, are not surprisingly stellar: bookings up 127.3% from Dec. 2008, and billings up nearly 22%.