January 4, 2009 – Chip sales broke through in positive territory again (compared with a year ago) with a ninth consecutive month of growth in November, and renewed strong demand for chip-consuming electronics devices signal an end-market recovery is occurring, according to the Semiconductor Industry Association (SIA).
Chip sales in November totaled $22.6B, up 3.7% from October and (finally!) an increase from the same period a year ago (8.5%). Regionally, the Americas continues to drive the comeback, nearly doubling the overall market's pace; Europe also surged in November. The SIA's data also includes a +$132M bump to October numbers.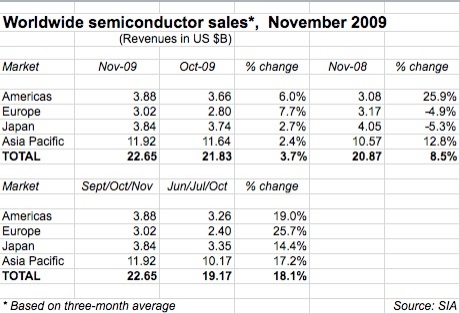 "2009 ended with sales of many IT and consumer products faring better than earlier projections," noted SIA president George Scalise in a statement. PC sales, for example, are in line with projections, with a perceived boost from the new Windows 7 operating system, and handset units should be roughly flat with 2008 levels. Bright spots include LCD TVs, where units are projected to have spiked 25%-30% in 2009, he added.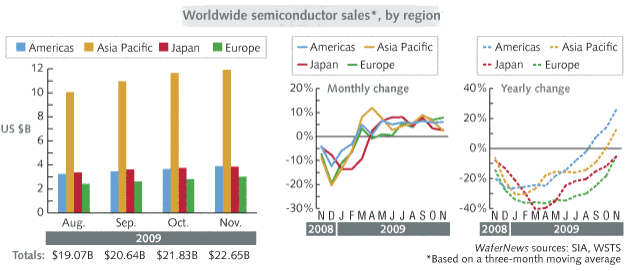 Recall that the SIA's year-end forecast on Nov.5 projected just under $220B in chip sales, an -11.6% decline from 2008's $255.2B (markedly better than the -21% outlook it had projected at midyear). With the latest data for November, the SIA's year-to-date numbers show sales of $202.1B. So to fulfill the yearend forecast, December chip sales would have to come in at around $17.6B, a stunning -22% M-M collapse. That seems entirely unlikely: at the flashpoint of the past year's meltdown, Dec.2008 chip sales slid "only" -16%. and in more recent years December dropoffs have been around -3% or -4%. If instead we apply that pattern, we might expect something more like $21.8B in December, and thus around $218.4B for FY09, and a decline of -8.2% from the prior year (instead of -11.6%). That's a pretty good swing in just a couple of months.