February 23, 2010 – Demand for semiconductor manufacturing equipment continues to surge as the industry emerges from its slumber, with some measurements showing strength not seen in several years, according to the latest monthly data from SEMI.
Figures from North America-based tool suppliers indicate worldwide bookings (orders) rose to $1.13B in January 2010, their highest in nearly two years — that's up 24% from December levels and more than 3× higher than January 2009, near the bottom of the slump. Billings (sales) also performed well in January, up 11% from December and 62% higher than a year ago. Even December's numbers were better than initially thought, especially in bookings which were revised up about 6% (an extra $50M).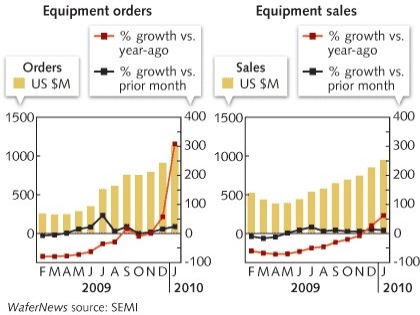 Perhaps the best number of the bunch: the book-to-bill ratio (B:B), a measuring stick for business coming in (orders) vs. going out (sales), soared to 1.20 in January, its highest level in more than six years and a reflection of "the robust capex spending plans announced by semiconductor device manufacturers over the past several months," noted SEMI president Stanley Myers, in a statement.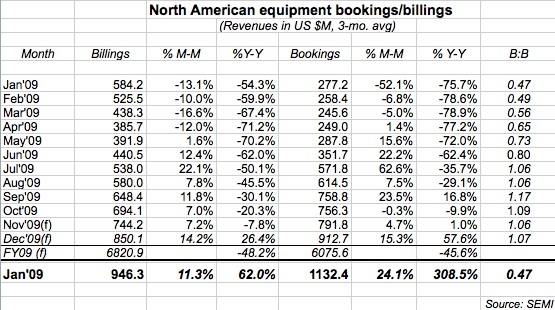 This B:B trend bears watching, as talk about the industry recovery turns from "when" to "how long will it last." The B:B finally cracked the 1.0 parity mark in late summer, so a string of above-parity marks indicates good business ahead. There is still some question, though, whether the industry is in the midst of a strong 1H10 investment climate, only to fall off to another slowdown in 2H10 — or whether factors such as increased tool lead-times (e.g. lithography equipment) will extend the streak into 2011.
Numbers from Japan's semiconductor equipment sector also continue to be strong, according to the Semiconductor Equipment Association of Japan (SEAJ). January's orders came in at roughly ¥85B (US $931M), up 10% from December and 237% from a year ago, while sales rose about 5% month-on-month and 36% year-on-year to ¥62.5B ($683M). The B:B remains well above parity at 1.36; it has only dipped below 1.30 once in the past six months.