March 22, 2010 – The semiconductor industry is at its most profitable point now than any other time in the past decade thanks to industrywide efforts to aggressively manage costs and capacity — but wild optimism about surging growth forgets the truth that this recovery only resets to levels from three years ago, according to iSuppli.
Overall semiconductor supplier operating profits rose to 21.4% in 4Q09, their highest since the end of 2000 (24.7% — and we all know what happened after that). That's up from negative margins of -5.3% as recently as 1Q09 in the wake of the latest industry downturn.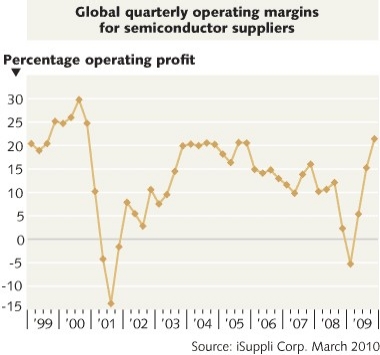 The rebound wasn't only due to a recovery from that downturn, but also reflected more strategic and structural changes within the industry in general — i.e., cutting costs and improving cash flow, notes iSuppli president/CEO Derek Lidow. "As the market began to turn back up, the industry showed great restraint against adding production in order to avoid any overcapacity situations. This allowed the companies to recapture their pricing power to boost profitability."
Meanwhile, chipmakers' expenditures are at all-time lows, less than half what they were in the previous two years, iSuppli notes. And planned spending in the near-term will likely focus on areas like advanced packaging to support new products, rather than widespread wafer fab capacity additions.
After dropping -5.4% in 1Q09, global pricing for electronic components (including semiconductors) started to stabilize in 2Q (-2.7%) and then spiked in 2H09 (2.2% in 3Q, 2.7% in 4Q), according to iSuppli.
Beyond better managing capacity, chipmakers have implemented a fundamental shift in their competitive structures as the industry has matured — instead of pursuing a broad-line strategy (where they "must fend off hordes of smaller competitors nipping at their heels") they have narrowed to specific market segments where they can flex pricing power and competitive advantages, and thus look to improve profits and cut overhead instead of worrying about marketshare, Lidow notes. Infineon, for example, has pared away businesses including memory and communications to narrow its core focus to semiconductors and system-level ICs, targeting automotive, industrial, wireless, and security applications. Look for this trend to emerge among Japanese semiconductor suppliers next, Lidow predicts.
Riding the wave? Not so fast
But before reveling in the rebound of the past half-year, a dose of broader perspective: the current rebound is really quite modest from a longer-term perspective. The anticipated >20% surge in 2010 global chip sales only represents an 8% increase from pre-downturn 2008 levels and just 2.3% higher than in 2007, notes iSuppli. "Conditions in 2010 appear so fantastic only in comparison of 2009," notes Dale Ford, SVP for market intelligence services at iSuppli. "In reality, 2010 is likely to simply be a year when semiconductor industry growth on a sequential quarterly basis returns to a more normal pattern."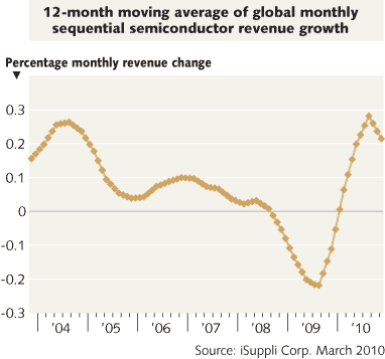 This comes to light in comparisons with the glacial downturn in recent memory, in 2001 — factors then included the dot-com bust, plunging PC sales, and a boatload of excess capacity. But this time the downturn was caused mainly by external macroeconomic factors. In essence, the industry has simply reset to 2007 demand levels.
Ford's caution for overexuberance of growth scenarios extends to caution in specific market segments as well. In general, quickly implemented production cuts and pullbacks in capex helped adjust supplies in the worst of things — but demand returning to simply normal seasonal levels is constraining supplies in some cases. Reported supply constraints for some key semiconductor components in mobile phones, for instance, are due to production constraints causing supply bottlenecks, not any clamor from the demand side, Ford notes.
Pricing trends, too, are just coming back to a familiar historical realm. Ford notes iSuppli's "Procurement Pricing Index" for electronic components (including most types of semiconductors) will decline about 2% in 1Q10 and 2Q10; this is typical and reflects no surge in pricing, he says.
And capex, which fell off a cliff in 2009 and is seen spiking in 2010? That too just resets investments after three consecutive years of declines in investments, and only to half the levels of 2007-2008, Fort notes. And this planned spending will be for "technology purchases" rather than capacity expansions, and so more targeted and specific to needs rather than broad-based spending to meet demand. The only sector where capacity might actually be in need of expansion is test/assembly.