March 1, 2010 – January semiconductor sales numbers are hot off the press, and already analysts are saying the trendline is being reset for a better-than-predicted 2010, with growth approaching or even exceeding 20%.
Worldwide semiconductor sales (a three-month moving average) in January rose about 0.3% vs. December to $22.5 billion, according to new statistics from the Semiconductor Industry Association (SIA), with "strength across a range of demand drivers for semiconductors, including personal computers, cell phones, automobiles, and industrial applications," stated SIA president George Scalise. That dollar figure is a whopping 47% higher than January 2009, which of course was the trough of the market slump.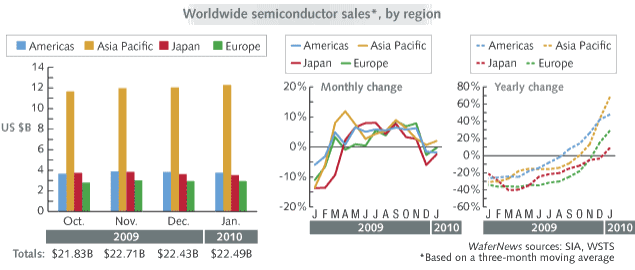 By seasonal trends, January usually shows a small decrease from December, so the numbers are encouraging. It's a stretch to call it a trend, but if this continues, Scalise says "there is upside potential" for 2010 to beat the group's initial forecast in November of $242.1B and ~10% growth. That will, of course, play itself out over many yet-to-be-experienced months of supply/demand activity, as well as consumer purchasing trends in the growing global economy, Scalise noted.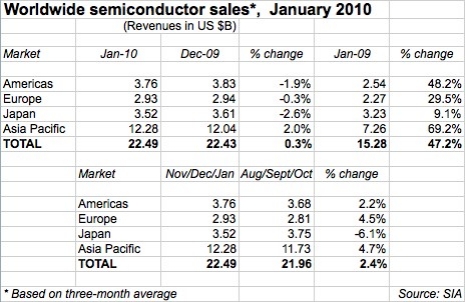 Dale Ford, SVP at industry watcher iSuppli, extrapolates the January numbers into an observation of the entire first quarter, calculating a -4.4% decline vs. 4Q09 to $66.5B. A key market to watch in 1Q10: wireless communications (which includes cell phones), seen with $13.1B in sales, up 53% from a year ago. And the memory sector (DRAM and NAND flash) will double their revenues from 1Q09.
Looking at the rosy Y/Y comparisons, Ford sees a "foundation for a robust rebound in the global semiconductor business in 2010," with 21% growth to nearly $280B, the first double-digit annual growth since 2006. DRAM firms are managing capacity to keep inventories in check and keep prices from falling, while NAND flash is poised for strong demand of smart phones, which will constrain supplies and boost pricing, he says.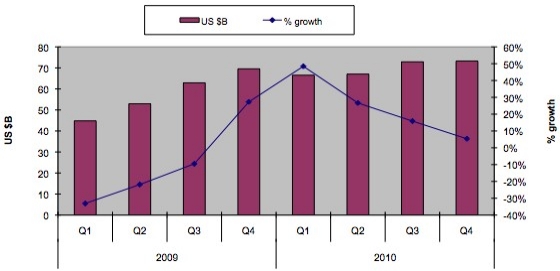 Global quarterly semiconductor revenue forecast. (Source: iSuppli)
Gartner, too, says it sees "clear evidence that the semiconductor industry is poised for strong growth in 2010," according to research VP Bryan Lewis, who pegs roughly 20% growth in 2010, driven as usual by PCs and memory — DRAM sales should grow 55% this year, making it the fastest-growing device type. "Given the sales momentum and earlier cutbacks in capital spending, semiconductor foundry and packaging utilization rates are approaching constraints, and most regions and most applications are seeing increased orders," he writes.
Lewis predicts there will be a slight bump in the road later in the year, "a minor correction" to rebalance sales of chips vs. electronic systems — materializing as a 7% increase in the typical 3Q build season, followed by a flat 4Q. From there the industry should be well on pace to crack the $300B mark in annual sales by 2012, and show "continued growth through 2014," he writes.