March 19, 2010 – No surprise that 2H09 was a comeback period for semiconductor equipment and materials suppliers, but new "final" numbers from SEMI suggest some late-season changes in behavior in some regions, and ultimately sets the stage for a better 2010.
Overall, 2009 equipment sales came in about where SEMI thought they would in its Nov. 2009 estimates: around $16B, a -46% dropoff vs. 2008. At a regional level, spending rates declined by double-digits for everyone. Tops in spending was Taiwan with $4.35B, followed by North America ($3.39B), Korea ($2.6B), Japan ($2.23B), Rest-of-World with $1.44B (covering Singapore, Malaysia, Philippines, Southeast Asia, and smaller global markets), Europe ($970M), and China ($940M).
Stronger-than-expected 4Q09 spending seems to have helped Taiwan put on an extra $300M compared with the initial forecasts, ending the year at a -13.2% decline instead of nearly -20% as had been anticipated. "TSMC and the packaging houses boosted their capex plans several times throughout 2009 once the market recovered off the bottom," Dan Tracy, SEMI's research development director for industry research and statistics, told SST. Other regions came up a bit short — China was about $150M short, resulting in -50% vs. -44%; while Korea came in about $350M shy, resulting in a -47% Y/Y decline vs. 40%.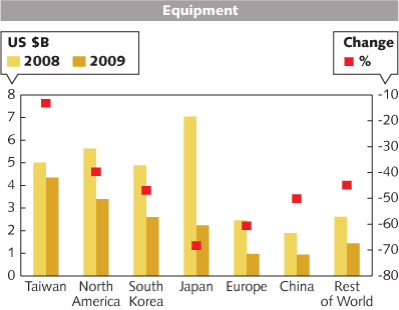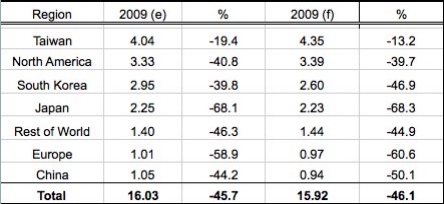 Semiconductor equipment sales in 2009 by region: estimated (Dec.2009) vs. final (Mar.2010). Note that totals may not add due to rounding. (Source: SEMI/SEAJ)
By equipment type, SEMI's final numbers are in close agreement with what it predicted in early December: a -46% decline in wafer processing equipment (to just under $12B), -31% for assembly/packaging equipment (to about $1.4B), and -55% in test equipment (to $1.55B); "other" frontend equipment declined about -44% to about $1.12B.
Tracy told SST that the final 2009 numbers haven't yet been plugged into SEMI's full equipment forecast for 2010 and beyond — but the group's initial outlook for 2010 fab spending was recently bumped up to a nearly 90% increase (to $30.9B) instead of prior 66% outlook, thanks to increased capex plans mainly by foundries and memory companies, for both postponed and new projects. Installed capacity is now expected to grow 5%-6% to ~16.1M wafers/months.
The final numbers were compiled from data submitted by members of SEMI and the Semiconductor Equipment Association of Japan (SEAJ), across seven major semiconductor producing regions and over 22 product categories: e.g., wafer processing, assembly and packaging, test, and other front-end equipment (such as mask/reticle manufacturing, wafer manufacturing, and fab/facilities equipment).
Materials gains ground in 2H09 too
Semiconductor materials contracted by -19% in 2009 to $34.6B as the industry "reacted quickly" to the downturn early in the year; in the end, the downturn for materials sales wasn't as bad as the 2001 crash (-26%). Sales were split almost evenly between wafer fabrication materials ($17.9B) and packaging materials ($16.8B); in 2008 the gap was wider ($24.2B and $18.B, respectively). The bigger slide in wafer fab materials was attributed to big decreases in silicon revenues, SEMI notes.
By region, Japan remains the largest consumer of semiconductor materials (22%) due to its large base of wafer fab and advanced packaging users; almost every region saw declines by double-digits (China was -9%), though increases in gold metal prices helped offset declines in those regions with strong packaging bases, SEMI notes.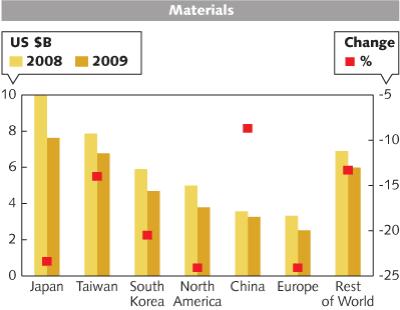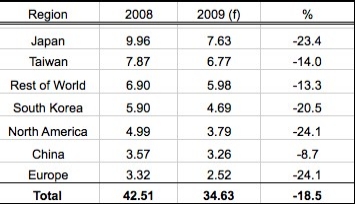 Semiconductor materials sales by world region, in US $B.
Note that totals may not add due to rounding. (Source: SEMI)