March 19, 2010 – The chip industry keeps chugging along the recovery road, with another "dramatic" month compared to the depths of where we were a year ago, according to the latest monthly figures from SEMI.
According to North American-based manufacturers of semiconductor equipment, demand rose about 4%-6% sequentially in February, with bookings rising to about $1.23B, and billings crossing the $1B mark to $1.01B. (Both figures are a three-month average). Comparisons to the same period a year ago look stellar, since that was the low-water mark of the downturn: Feb. 2010 bookings were up 377% Y/Y, and billings up 92.5%. With the continued demand, the book-to-bill ratio (B:B) stayed well above parity at 1.23 — meaning $123 worth of orders were received for every $100 shipped during the month.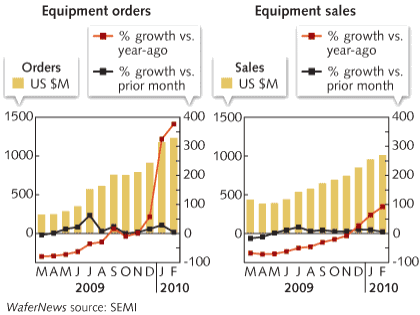 Some more impressive comparative statistics:
Bookings are at their highest in two and a half years (Sept. 2007, $1.235B). January had been highest in nearly two years. For a second straight month, final bookings tallies for the previous month had to be revised upwards by about $50M.
Billings are at their highest in a year and a half (August 2008, $1.06B), the last time they crossed the $1B/month mark, and have been rising sequentially for 10 consecutive quarters.
Perhaps the most impressive statistic: Jan-Feb represent the first sequential >1.2 B:B months in more than seven years (Jun-Jul 2002, 1.26-1.22). The B:B also has been above parity for eight straight months. For a statistic generally viewed as the key measuring stick for business coming in (orders) vs. going out (sales), that's an important number to watch.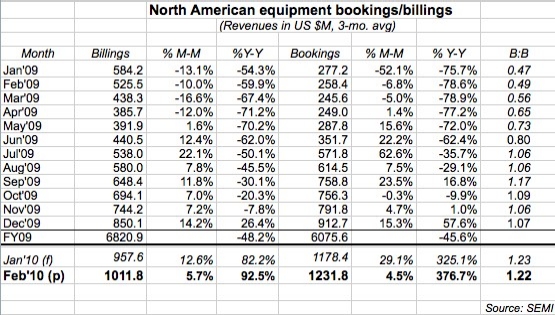 The numbers continue to look very good in Japan's semiconductor equipment sector as well. Orders for chip tools crept up 1.5% to about ¥86.3B, while sales rose 3.4% to ¥64.6B, according to the Semiconductor Equipment Association of Japan (SEAJ). (Like the SEMI numbers, year/year comparisons are strikingly good: orders up 531% and sales up 66% vs. Feb. 2009.) Though the month-on-month growth is a bit slower than in recent months, Japan's B:B remains at very high levels above 1.34 — it has dipped below 1.30 only once in the past seven months.