April 26, 2010 – As with sister markets, demand for silicon wafers used in making semiconductors is expected to ramp up in 2010, driven by a single keyword: "innovation," according to analyst firm iSuppli.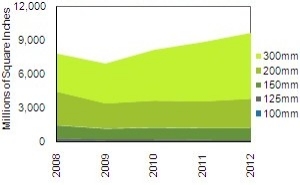 Worldwide silicon demand by wafer size (MSI). Source: iSuppli
Demand for silicon wafers shipped for semiconductor manufacturing is seen increasing 17% to 8.2 billion millions of sq. in. (MSI), rebounding from an -11% decline in MSI in 2009. For 300mm wafers, demand is expected to be well ahead of that pace: about 27% to 4.5B MSI. By contrast, 200mm wafer demand will grow just 7%, and just under 10% for 150mm wafers.
Looking ahead, the firm projects 300mm wafer demand will grow to 6.1B MSI, a 12.4% compound annual growth rate from 2008. Over the same period, 200mm wafers will have shrunk to 2.7B (a -2% CAGR).
Len Jelinek, iSuppli's director and chief analyst for semiconductor manufacturing, summed up the rebound in wafer demand in one word: Innovation. "A major element in achieving innovation is the increasing adoption of 300mm wafers, which offer greater economies of scale and thus greater efficiency and lower cost than smaller wafer sizes," he explained.
Another factor: A typical period of recovery after a downturn, driven by technical/manufacturing achievements. After the 2001 recession, the chip industry embraced three major technical transitions: scaling to the 0.13μm node, incorporation of a new metallization scheme, and beginning of a transition to 300mm wafers.
And so it will be with the post-2008/2009 industry recession, iSuppli claims. This time, 300mm manufacturing has been fully embraced (>50% of all manufacturing), and 200mm will be phased out. This "aggressive transition" will put pressure silicon manufacturers, from companies who have yet to recoup their investments in 200mm tooling, the firm notes. (See iSuppli's related report on this, "300mm wafers provide long-term cost reductions".)