April 23, 2010 – Semiconductor equipment suppliers reported continued moderate growth that's increasingly back in line with pre-downturn levels, according to the latest monthly data from SEMI.
North America-based semiconductor equipment suppliers reported $1.29B in orders during March 2010 (a three-month average), up 2.7% from February, and sales of $1.08B (up 6.4%), showing continued moderate growth and coming back in line with pre-downturn levels, according to the latest monthly data from SEMI. (Year-on-year comparisons are once again eye-popping — 423% bookings, 147% sales — since this time in 2009 was the deepest depths of the slowdown.) The book-to-bill ratio (B:B) of 1.19 means $119 worth of orders were received for every $100 shipped during the month.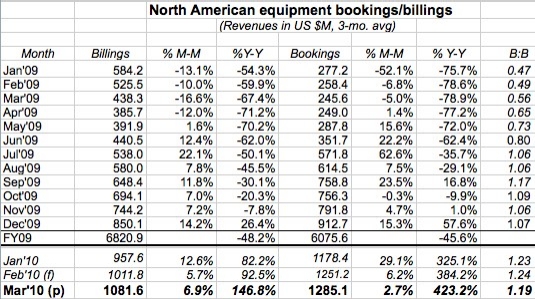 For its final February numbers, SEMI tacked on an extra $20M, bringing M/M growth up to 6.2% (vs. 4.5%); an extra $5M in billings inched up M/M growth to 6.1%.
Summarizing the numbers and trends:
Bookings are at their highest levels since Aug. 2007. And SEMI has added a final $20M-$50M to its preliminary tallies for the past three months.
Billings are also on a roll, now at their highest level since June 2008.
The B:B has stayed above the 1.0 parity mark for nine straight months, meaning more business continues to come in (orders) vs. go out (sales).
Bookings have increased sequentially in 11 of the past 12 months (with the only slide a -0.3% dip in Oct. 2009). For billings, the streak is 11 in a row dating to May 2009.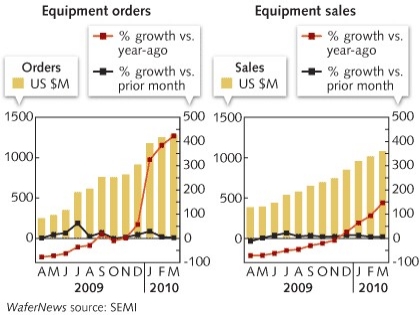 "The steady and consistent rise in bookings and billings shows that the industry is on a well-managed growth path," stated SEMI president/CEO Stanley Myers.
In Japan — where March designates the fiscal year-end for many firms, and thus a final push in business — the news is even better. Japan-based manufacturers of semiconductor equipment posted ¥97.18B (US $1.045B) in orders, up nearly 13% sequentially and an unbelievable 617% from a year ago, according to the Semiconductor Equipment Association of Japan (SEAJ). Billings of ¥83.31B ($894.7M) were up nearly 30% M/M and 87% Y/Y. The B:B fell slightly but is still well above parity at 1.17, meaning $117 worth of orders is coming in for every $100 in sales billed for the month.