April 9, 2010 – Global semiconductor capital equipment spending totaled $16.78B in 2009, roughly a -46% dropoff from 2008 as chipmakers put the brakes on all but essential spending in order to preserve cash in response to the industry and global meltdowns.
Memory capex evaporated (-54%) as companies struggled with price erosion and profit losses incurred since the year before. Logic and mixed-signal spending was cut back too (-26%) mainly with only technology step-upgrades. But by year's end, though, spending started to return — Gartner's previous "final" tally for 2009 calculated added about $300M to its December projections.
Despite all the market turmoil, the top rankings of toolmakers stayed relatively intact, though some positions changed hands in what was essentially a battle of attrition. The top seven kept their positions, while Tokyo Electron retook the #2 spot from ASML; there were also a couple of shuffles at the bottom, Novellus pushing up the list and knocking Advantest out of the top 10 (they were 9th in 2008). AMAT actually increased its share in 2009 to 15.1% from 13.2%. Only three companies (AMAT, TEL, ASML) pulled in $1B in sales in 2009; last year there were six, and 10 in 2007.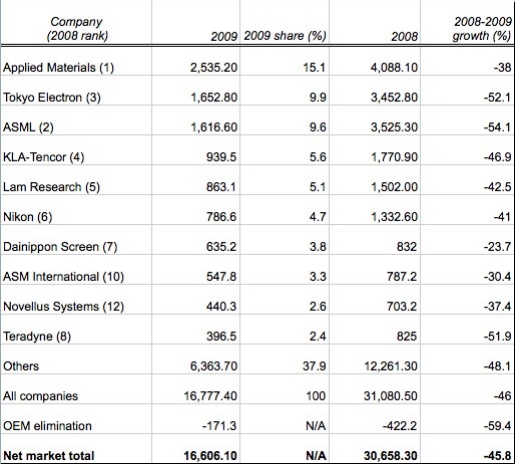 Worldwide semiconductor manufacturing equipment vendors — revenue estimates in US $M. Data includes revenue from acquisitions in 2009 for the entire year; 2008 data is before acquisitions. Growth is organic as well as through acquisitions. (Source: Gartner)
By process/tool type, wafer fab equipment (front-end) taking the brunt of it (-47%), as "the vast majority" of tool buys were for technology and not capacity, Gartner notes. But the backend sector wasn't spared either (-40%). Packaging/assembly equipment (PAE) dropped 32%, though companies selling copper wire bonders "performed substantially better" than the rest of the sector. Gartner sees the PAE sector taking off as more companies clamor to take advantage of emerging advanced packaging technologies and markets, e.g., through-silicon vias (TSV).
Also gutpunched in 2009 was automated test, plunging 53% to $1.15B, though after an "essentially nonexistent" first quarter, business and visibility returned by year's end. 2010 is setting up for "excellent growth" for the ATE sector across all major test equipment segments, particularly for memory test business which should more than double, says Gartner. (That environment might not last, though — just a month ago the firm established a notably less bullish outlook for ATE, citing likely consolidation among memory test firms and improved test techniques.)