June 29, 2010 – After creeping up in 1Q10, semiconductor inventories should pick up the pace a little bit in 2Q10 — but the numbers are "misleadingly elevated" and in reality stockpiles are quite lean, according to an iSuppli analyst.
Global semiconductor inventory rose just 1.0% in 1Q10 to $25.73B, and are expected to rise a little faster in 2Q10 (3.3% to $26.60B). Days-of-inventory (DOI) rose about 3% to 69 days, but behind that figure is not so much restocking as soaring gross margins, notes Carlo Ciriello, summarizing a new research report. Adjusting revenue & inventories for cost-of-goods-sold via long-term margins, DOI measures closer to 20% lower than seasonal average, he notes — actual inventories aren't 20% lean, but the calculation illustrates that the widely reported DOI levels are "misleadingly elevated" and that suppliers "are shorter on supply than is widely perceived."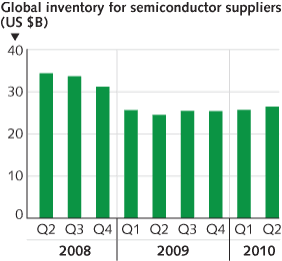 Ciriello points out that as the industry has recovered, inventory dollars have consistently declined (since 3Q09) — and without a sizeable replenishment in 1Q10, device manufacturers are forced to continue operating "hand-to-mouth" with just-in-time fulfillment.
With inventories low and capacity straining to meet downstream demand, lead-times are going up all through the supply chain, and some shortages are occurring for some commodity components. "Double-ordering appears common, "especially among upstream suppliers," he notes, and many companies are reporting book-to-bill (B:B) ratios "dangerously in excess of 1:1" which suggests inflated demand. Whether those double-orders actually make it through the chain to production or even inventory remains to be seen, but Ciriello says the industry's continued bullish tone suggests suppliers aren't too worried, and are confident they will keep inventories under control to not "buy themselves into an oversupply situation."