June 4, 2010 – Analysts speaking at a breakfast seminar near Boston agree that current chip sales estimates are "conservative" — even after one of them breaks out new optimistic forecasts — and strong demand is pulling the industry back into seasonal trends and more reliable growth patterns.
Gartner's new forecast, issued this week, pegs 27.1% growth in chip sales in 2010 to $290B, vs. ~20% growth to $276B it forecast back in February. Bob Johnson, VP of research at Gartner, cited a list of factors underpinning the brighter outlook: better PC unit growth (22% vs. 20% in the previous forecast), MPU revenues (14.7% vs. 11%), DRAM revenue (78% vs. 55%), and cell phone units (14% vs. 12%).
Looking further out, it looks like the better 2010 growth comes at the expense of 2011 and 2012, which Gartner now sees as slightly less optimistic — about 1% lower in 2011, and 2% lower in 2012 — Johnson deemed this "a little softness, largely a memory problem." Semiconductor growth is now clearly outpacing not only seasonal norms, but also the broader electronics systems market in general in terms of both inventories and pricing, he noted, and this needs to get back in synch. Look for chip sales to stay on a long-term ~5%/year growth trend.

Above is Gartner's new forecast vs. its old one from February; below is Johnson's summary of the changes in device type and applications. Note in particular the swing in memory — mostly due to better pricing, not bit demand, he says. This year there are supply shortages across the horizon from memory to analog to foundries, and ASPs and inventories are on the rise; these should all balance again in 2011. And the growth across several applications reveals "a more broad-based demand picture," he said.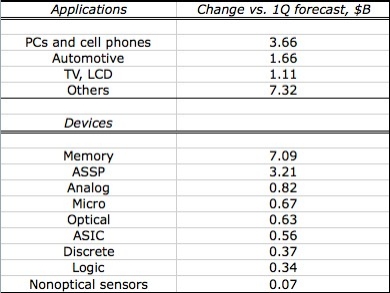 That high-20s growth for 2010 might not be enough. Also speaking at the SEMI breakfast near Boston, IC Insights' Bill McClean said his current outlook of 28% chip sales growth is "conservative," and "can easily go over 30%." The key is underlying strength of demand: in 2009, the worst economic downturn in 63 years, PC units actually rose 1%, and this year could spike to 18% or more — the best in 10 years, he said, now that businesses who bypassed Vista have cash available to spend and are ready to invest in Windows 7 machines. He also pointed to a return to trending for IC unit shipments at around 9%; some inventory buildup (e.g. in analog and special logic) "won't be a problem if we stay on a seasonal trend," he said.
Semico analyst Jim Feldhan likewise called his own 27% growth number for 2010 conservative; "I can see a little above 30%, if memory pricing holds." Like Gartner he sees a mild slowdown in 2012, and mid single-digit growth in 2013-2014. He noted that of ~45 end markets Semico tracks, the semiconductor content continues to get richer, and a younger generation of users sees these beefier devices with better technology as a necessity, not a luxury. Communications infrastructure will be a driving force in the next several years, as will an upgrade cycle for PCs and phones, including more robust varieties — "the Chinese are just as interested in smart phones as the rest of us," he said. Solar applications are becoming important, not just the base silicon but also systems, e.g. inverters and "smart grids." And an even auto is an increasingly key market — the US now sells 2M fewer cars that its estimated replacement level, he pointed out, so a catchup in this sector helps devicemakers from MEMS to infotainment.