June 1, 2010 – Global semiconductor sales rose 2.2% in April to a new record high of $23.6B as the industry continues to march back from a bruising downturn, and is on track to settle back into seasonal patterns again, according to the latest monthly data from the Semiconductor Industry Association (SIA).
Chip sales (a three-month moving average) rose 2.2% from the previous month (March), and were up 50% from a year ago, which is just as much of a commentary on how lousy early '09 was. Similarly, sales through the first four months of 2010 are up 54% from the same period in 2009. This continues similar growth seen in the first three months of the year, a quarter in which IC shipments peaked at a record 44.5B units. Note that the year-on-year comparisons are starting to look a little less jagged than in prior months — this is both due to improved comparison months (i.e., the industry improved in mid-2009 onward).
By region, the Americas continues to lead the charge, though Asian regions are right along with it. Even Europe managed to eke out monthly growth. Compared with a year ago, all regions enjoyed at least 43% growth, led by Asia-Pacific.
Semiconductor sales growth (in dollar terms) is partly due to the resurgence of memory, where pricing has greatly improved. Deutsche Bank's Ross Seymore, who is maintaining his 25% growth forecast for 2010, notes in a research report that minus DRAM, annual growth comparisons slip a bit to 40% (vs. 48%), as ASPs "remain solid." He also sees positive signs in month/month comparisons for MPUs and analog, both of which saw sales decline (-28% and -3% respectively) on weaker units, but less than historical averages.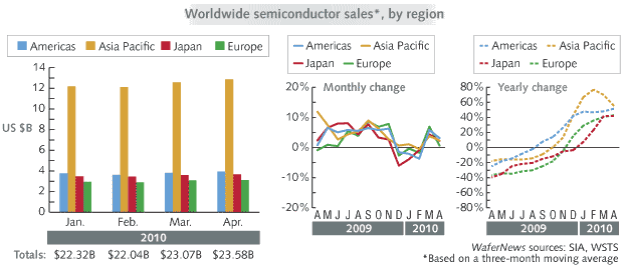 Credit Suisse's John Pitzer downplays the significance of handicapping early-year growth trends, particularly this year with Euro troubles complicating things — and in fact the next few weeks (mainly June) are key. Minus memory, May and June should well surpass historical trends of barely 1% sequential growth, he says; if the rest of the year slides back into seasonality the year would close at about 29% growth, above consensus forecasts.
"While bears continue to be concerned that semis have outgrown end demand on a q/q basis over the past several quarters, we would highlight that IC unit shipments (ex-memory) remain 8% below long-term shipment trends," he notes. Barring significant double-dipping trends, "we suspect 2H10 numbers are still wrong and too low, especially if cyclical and structural supply constraints leads to better pricing," he writes.