June 15, 2010 – What a difference six months makes — especially if you're in the business of semiconductor industry prognostication.
With the industry roaring back to life in the past few months, the WSTS and SIA are rewriting their semiannual forecasts since their last updates in November, with a lot of upside in 2010. The WSTS now offers "a materially more optimistic outlook" for 2010, nearly tripling its prior estimates to almost 29%, topping $290B, thanks to "revived enterprise and consumer spending." That ~30% is right where other analysts have been resizing their estimates for 2010. After 2010's surge, the industry should slide back to around mid single-digits in 2011-2012, settling into a 12.3% growth rate for the three-year period and topping $320B.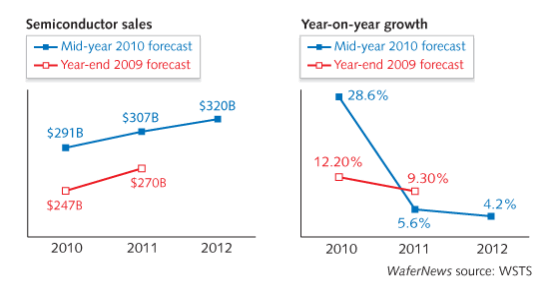 Every product category and geography saw its growth outlook double, or nearly so (or even more — e.g., memory and discretes), what was expected just six months ago. Even the final 2009 numbers, which had just a month or so to go in the WSTS' year-end 2009 forecast, had to be bumped up a little bit (about 2.8% higher overall, and nearly 5% for memory).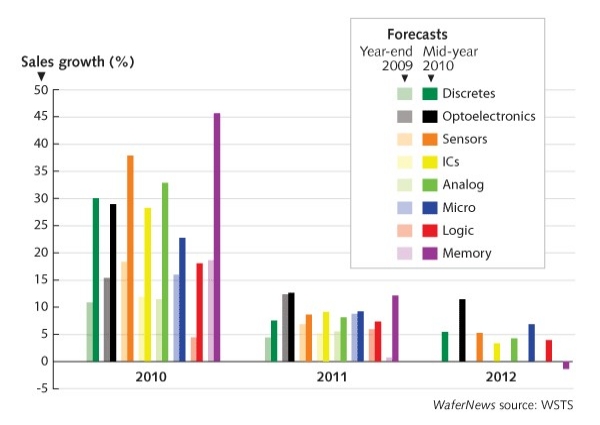 Similarly, the SIA, which bases its forecasts on the WSTS numbers, has hiked its global chip sales outlook to 28.4%/290.5B in 2010, followed by 6.5%/$308.7B in 2011, and 2.9%/$317.8B in 2012. The first half of 2010 has welcomed "healthy demand in all major product sectors and in all geographic markets," inventories still in balance and no excess buildup at the moment, noted SIA president George Scalise, in a statement. Emerging economies such as China and India are fueling demand for IT products, and projected 4.6% and 4.4% worldwide economic growth rates in 2010 and 2011, respectively, he added.