by James Montgomery, news editor
July 22, 2010 – Building on what has become a repetitive, if welcome theme, North America-based chip tool suppliers posted $1.68B in orders in June, up 10.5% from May — officially surpassing their levels before anyone worried about a macroeconomically-induced meltdown. Billings also grew strongly, up 5.7% month/month to $1.42B. (Both metrics still have absurdly high triple-digit Y/Y growth, as much reflective of 2009's lousiness.) The bigger surge in bookings also pushed the B:B ratio up to 1.19, meaning $119 worth of orders was received for every $100 of product billed during the month.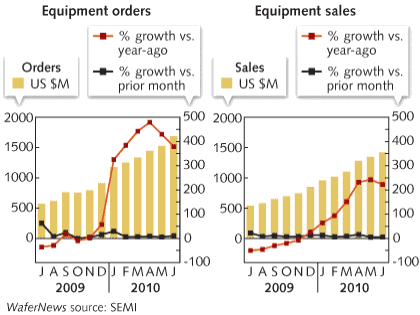 The numbers "indicate the consistent customer demand that SEMI members are working hard to fulfill," said Stan Myers, president/CEO of SEMI, in a statement.
More inside the June stats:
Bookings are at their highest levels since August 2006 (was June 2007), after SEMI once again tacked on an extra bump ($42M) to its previous preliminary monthly tally. The >10% M/M jump in bookings is the biggest since February. Billings are still on a roll, with their highest level since October 2007 (was April 2008).
The B:B has stayed above the 1.0 parity mark for 12 consecutive months — the past six of them above 1.13 — indicating that still more business continues to come in (orders) vs. go out (sales).
For those tracking the industry's recovery, here's the kicker: Bookings are now officially above their peak before the economy-induced crisis ($1641.0M in May 2007), and have risen for 14 out of 15 months (one month was flat). Billings have risen sequentially for 14 straight months. Bookings are closing in on the overall cyclical peak from four summers ago ($1782.3M, June 2006), and billings aren't far away ($1742.8M, August 2006).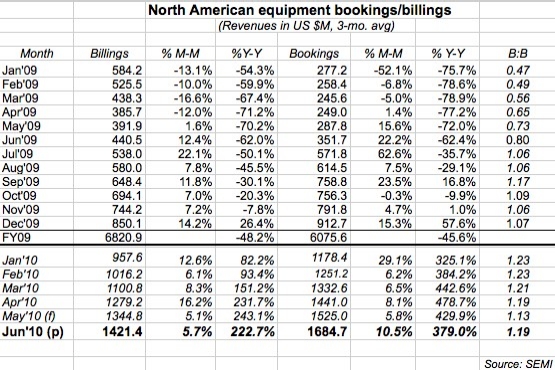 Things in Japan, though, are a bit mixed. Semiconductor equipment bookings rose another 6% in June to ¥112.51B (US $1.29B) — but billings sunk nearly 15% to ¥80.29B ($922.1M), according to the Semiconductor Equipment Association of Japan (SEAJ). That shoved the B:B ratio up to an eye-popping 1.40.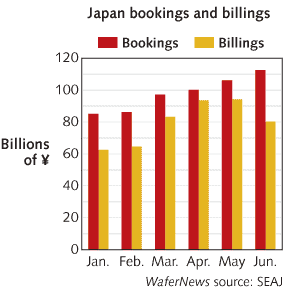 Gartner analyst Bob Johnson, speaking at a market summary at last week's SEMICON West, offered maybe the best analogy to the industry's sentiment we've heard so far: it's like we're approaching the top of a mountain peak, seeing nothing but blue sky and a few clouds ahead and around — and no real visibility as to what's just on the other side of the peak ahead, be it a plateau or steep dropoff. Anyone want to place a bet?