by Debra Vogler, senior technical editor
July 12, 2010 – Applied Materials unveiled its latest conductor etch solution, the Centura AdvantEdge Mesa, in advance of SEMICON West. Thorsten Lill, VP of etch applications & technology development in the company's etch and clean business unit, summarized the drivers for the new product: double-patterning and 3D devices, which drive uniformity, selectivity, and aspect ratio dependent (ARDE) requirements at advanced nodes. Whether horizontal device scaling (double-patterning or new mask materials), or vertical device scaling (such as 4F2 DRAM cells, complex post-NAND stacks, or FinFETs), etch becomes more complicated, e.g., as the etch goes deeper, the etch rate slows down, and depth control is impacted.
Applied tackled the problems inherent with advanced conductor etch by synchronizing plasma pulsing, instead of using continuous wave plasma. (Lill explains the physics behind the innovation, called Pulsync, in a recorded podcast interview). When pulsing the source and bias power synchronously, one has to ensure very good plasma stability and chamber matching, he notes. "When you turn off the source and bias at the same time, the plasma starts to relax, the charged species start to recombine and end up on the structure of the wafer or chamber walls and you get a different kind of chemistry in the plasma," he said. "In the off-cycle, we get a larger number of molecular species and these tend to have less energy per ion, which translates into intermetal selectivity which we've shown with 8Å gate oxide recess." By turning off the plasma, the structures have the opportunity to discharge. "A charged structure increases the ARDE because it deflects the ions. By turning off the plasma, you can neutralize the surface and start fresh, which results in a 3X better ARDE" compared to continuous wave plasma.
According to the company, Pulsync also reduces both intra-cell and dense-to-isolated loading for <3X nm. Additionally, the company says that it has demonstrated sub-1nm gate oxide recess. Uniformity performance is shown in the figure below.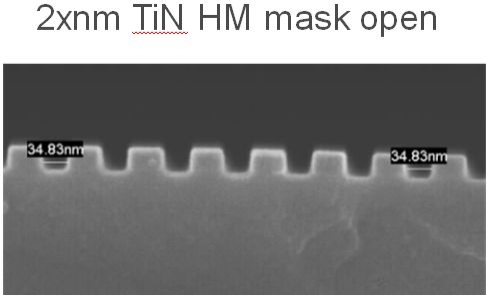 AdvantEdge Mesa uniformity performance. The source delivers 1% depth uniformity and sub-1nm CD uniformity. (Source: Applied Materials)