January 14, 2011 — With a huge drop in average selling prices (ASP) predicted for 2011, global dynamic random access memory (DRAM) revenue is expected to contract sharply this year, despite strong growth opportunities in smart phones and tablets, according to new IHS iSuppli research.
Worldwide DRAM revenue in 2011 is forecast to decline to $35.5 billion, down 11.8% from $40.3 billion in 2010. The double-digit drop represents a stark reversal of the 77.5% increase in DRAM revenue in 2010 compared to 2009. The next several years will be turbulent for DRAM revenue (figure) as revenue drops due to ever-declining ASPs.
| | | | | | | |
| --- | --- | --- | --- | --- | --- | --- |
| | 2009 | 2010 | 2011 | 2012 | 2013 | 2014 |
| Revenue in billions of dollars | $22.7 | $40.3 | $35.5 | $32.1 | $26.1 | $28.9 |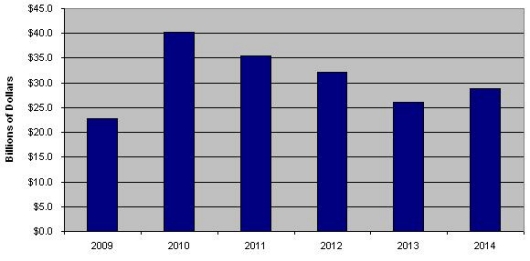 Figure. Global dynamic random access memory (DRAM) revenue market forecast (Billions of U.S. Dollars). Source: iSuppli, January 2011
"With supply exceeding demand, pricing will decline precipitously for the year, causing revenue to decrease," said Mike Howard, senior analyst for DRAM and memory at IHS.
Prospects for DRAM took a sudden turn for the worse in the third quarter of 2010 after ASPs plunged, ending five straight quarters of steady increases. Given the robust channel inventories of that time, stronger bit growth and a retreat in demand primarily in notebook PCs, the market changed direction abruptly and fell more severely than anticipated, ending the DRAM rally.
The reversal of fortune will extend to 2011, according to IHS iSuppli forecasts. The ASP this year is projected to drop 44.7% to $1.44, down from $2.61 in 2010. Bit growth, while expected to increase 59.6% to 24.6 billion gigabytes (GB), will not make up for the brutal contraction in prices.
"While bad news for suppliers, the retreat in the DRAM ASP augurs well for consumers," Howard said. "The price of a 2GB module currently is less than half its level six months ago, a development sure to lead to higher DRAM content in PCs for 2011 and provide consumers with more memory per machine. Furthermore, the new predominant memory configuration in 2011 will be 4GB, to be loaded in half of all desktop PCs, with 2GB systems declining to just 6% of the total market by the end of the year."
Consumers also can expect the DRAM market to increasingly transition to newer double data rate 3 (DDR3) modules, which boast faster transfer speeds and consume less power than older DDR2 device types. While DDR2 will continue to be found in many consumer electronics devices such as TVs, nearly all PCs shipped in 2011 will use DDR3.
Mobile handsets and tablets promise to be two segments of increasing importance for DRAM companies. While using less memory per device, smartphones and tablets in 2011 will combine to outship PCs by more than 50 million units, making them categories well worth watching, IHS iSuppli research indicates.
Memory content for smartphones in 2011 will increase 62%, nearly doubling the 33% growth projected in PCs. For their part, tablet shipments will grow rapidly this year to 57 million units, compared to 16 million in 2010; they will become a significant DRAM category rivaling smartphones in 2012 and 2013.
By 2014, mobile DRAM will account for 16.5% of all DRAM bits that are shipped — an increase from just 6.2% in 2009.
Learn more about the latest developments in the DRAM market and industry with Howard's recent brief, DRAM Market Loses Steam at http://www.isuppli.com/Memory-and-Storage/Pages/DRAM-Market-Loses-Steam.aspx?PRX
IHS iSuppli technology value chain research and advisory services range from electronic component research to device-specific application market forecasts, from teardown analysis to consumer electronics market trends and analysis and from display device and systems research to automotive telematics, navigation and safety systems research. More information is available at www.isuppli.com
Subscribe to Solid State Technology/Advanced Packaging.
Follow Solid State Technology on Twitter.com via editors Pete Singer, twitter.com/PetesTweetsPW and Debra Vogler, twitter.com/dvogler_PV_semi.