by Michael A. Fury, Techcet Group
January 14, 2011 – Day 3 of ISS 2011 overlapped with Day 1 of SEMI's Strategic Materials Conference (SMC), which would have been a real mess had it not actually been planned that way. The room full of round tables for ISS was replaced with linear rows of tables to accommodate the ~2× crowd.
This inaugural ISS/SMC joint session was kicked off by Intel's director of technology, Paolo Gargini with a 50,000 foot perspective on materials as key to innovative devices. A common thread for the device & material innovations in volume production today: they were all instigated in the 1990s. By analogy, the projection for innovations to expect in production this coming decade is constrained to developments undertaken in the last one. The alphabet soup may include InGaAs channels over graded InAlAs/GaAs on Si. Graphene won't go very far until we can manufacture extended films larger than several microns. In preparation for 2020, the Nanoelectronics Research Initiative (NRI) is looking at new device structures and functions, with management direction provided equally by industry and academia. Heterojunction engineering for tunneling junctions is one route to low-leakage devices for the future.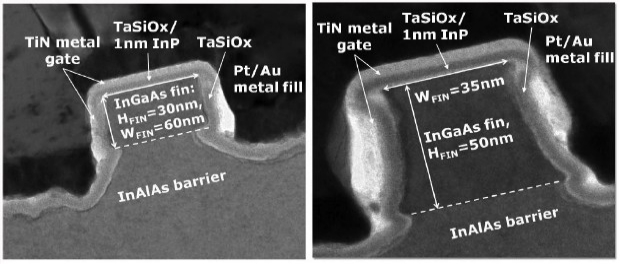 Completed fabrication of nonplanar multigate InGaAs QWFETs. (Source: Intel, ISS 2011)
James Hutchby of Semiconductor Research Corp. (SRC) looked toward the future at emerging memory technologies beyond 16nm — where all of the emerging work is in the nonvolatile category. Criteria for candidates include: ability to scale beyond 16nm, potential for low cost/bit, switching physics well understood, and CMOS compatibility. One relatively new addition to the mix is an electrochemical reduction/oxidation metallization (ECM) cell, whose function relies on our old nemesis, Ag migration spikes. (As Homer Simpson might say: Oh silver, you're so shiny — how could we have thought you were bad?) Nanoelectromechanical (NEM) devices have the distinction of offering effectively zero leakage. STT RAM and RedOx RAM (ECM) have been deemed worthy of accelerated development.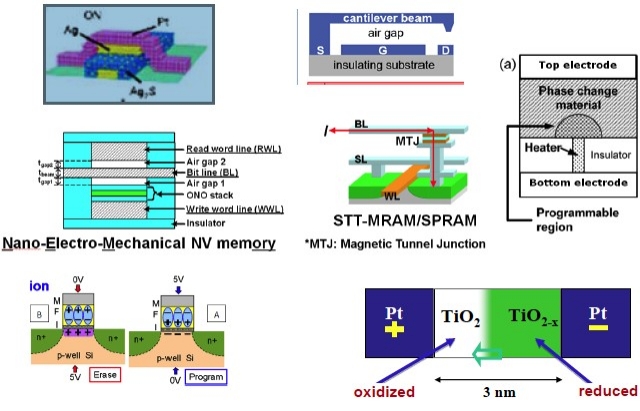 Alphabet soup of new memory candidates. (Source: SRC, ITRS, ISS 2011)
Having gazed into the future with SRC, we were brought back to present day reality by Keith Cook, Micron's senior director for technology & development, who reviewed several individual bricks in the big red wall. One particular vertical NAND structure offers the benefit of avoiding the need for EUV lithography. The introduction of new materials into each subsequent DRAM shrink is a particularly insidious impediment to timely qualification. NAND requires a radical move away from floating gate to alternate structures, for which 3D is particularly promising.
Gazing off in another direction, Norm Armour directed our attention to new vistas with an update on GlobalFoundries activities (he's VP/GM of Fab 8), including the new fab in Abu Dhabi. Capex for 2011 is $5.4B. Tool move-in for Fab 8 will begin in June this year. The product portfolio includes a push on MEMS volume manufacturing for gyroscopes, accelerometers, and RF switches. The company's 300mm capacity will double in the next two years to 2.3 million wafers/year in 300mm, and 2.5 million wafers/year in 200mm.
StreetViews panel: Buying into confidence, memory outlook split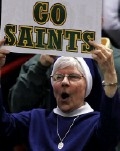 In keeping with tradition, ISS wrapped up with two discussion panels, the first of which was the view from Wall Street. Moderator Rick Hill of Novellus was unable to attend, but he was ably replaced by his former grade-school teacher, Sister Mary Ricky. She began with pupil progress reports from attendees at Saint Novellus Academy in the Archdiocese of Chicago. Having survived 12 years of Catholic elementary and high school in Chicago, I fear that the nightmares will return.
Tim Arcuri from CITI had rated LRCX at Sell and NVLS at Hold, but in retrospect both should have been Buy. Right now he likes backend stocks over frontend stocks. He continues his Hold on AMAT because they've not been hitting their share targets in several sectors.
Credit Suisse's Satya Kumar is sticking with his ratings from 4Q10, as they are tracking well. Smart phones are projected at +44% growth year/year, but may actually run as high as 60% or more. There will be no 450mm before 2015. He still expects a 2012 capex increase, unless 2011 overshoots demand. Capital intensity will turnaround and begin to increase over the next five years, but capital efficiency won't remain at its recent high levels.
Krish Sankar, BofA/ML, sees consumer confidence as stuck between recessionary and recovery behavior due to the lingering unemployment. NAND trajectory is up, DRAM is in limbo. Semiconductor unit shipments have recovered to pre-recession levels but online wafer capacity has not, indicating a slightly more sustainable approach than was indicated pre-recession.
DA Davidson's Avinash Kant is returning to the equipment analyst fold after a four year sabbatical in materials, including CCMP and ATMI (both Buy), and Entegris (recently downgraded to Hold).
Goldman Sachs' Jim Covello was invited to participate but was absent from the panel; his performance was reviewed and graded nonetheless, faring somewhat below the others.
Rick warned that he shared his data with Jim Cramer of CNBC's Mad Money notoriety, so watch for some of this information on TV.
CEO panel: Mining talent, integrating nanotech, leveraging competitive info
Wrapping up ISS 2011 was the Blue Chip CEO Panel, with participants Bob Akins (Cymer), Aart de Geus (Synopsys), Nobu Koshiba (JSR Corp.), Doug Neugold (ATMI), William P. Noglows (Cabot Microelectronics), and Michael Splinter (Applied Materials). Themes and inexorable trends to explore, as guided by moderator Michael Wright, president of Applied Global Strategies: mining university talent against a demographic riptide; integrating nanotechnology into our next wave; and leveraging information transactions for competitiveness. The rule of three is devolving as we have fewer players on the field.
Some comments from this panel discussion (taken out of context and sequence):
Noglows is pushing product development closer to the customer. The market and investor reality is that diversification beyond CMP is a highly sensitive issue for a company their size. M&A is edging to the fore in their strategy.
De Geus views technology evolution as multiple exponential complexities, and when they cross each other, industry hot buttons can change overnight. Balancing organic development investments with M&A is a powerful tool for both evolving and diversifying while remaining prudent. He feels corporate culture is the single most essential tool in protecting intellectual property sustainably. The electronics community has a culture that transcends national boundaries. Meritocracy is an industry characteristic that is appreciated within, but is not necessarily embraced by governments that regulate us.
Koshiba has the unique challenge of sustaining momentum in high-tech when the other legs of his stool are in rubber and petroleum. While their current R&D pipeline is focused on the current decade, he's impressed with the amount of relevant data already available for guiding decisions into the following decade.
Akins cautioned that the best employees need to be tasked as architects of the business, not just doers. The 10-year runway for IC technology introduction has put Cymer in a good position to assess long-term opportunities for diversification. He referenced a recent Scientific American article forecasting the exhaustion date for many of the materials critical to our industry. There is an opportunity for the semiconductor industry to foster a unified message of sustainability as part of our collective social responsibility.
Neugold has directed ATMI's capital investments toward capabilities that improve speed-to-fab, to address new customer needs. ATMI's diversification into life sciences began six years ago, investing modestly under the radar and not betting the farm. Corporate culture and value training is an essential component of bringing up a new team in emerging regions.
Splinter views enabling customer mobility to the next node and up the yield curve as a fundamental underlying investment decisions. A large company like AMAT is expected to diversify as semiconductor slows down, but the scale required for net growth adds a set of challenges quite distinct from those of smaller companies. It is more appropriate for corporations to support governments and educators in fostering sustainability than it is for corporations to take this on as an additional primary responsibility.
One final note: ISS 2012 will be the 35th anniversary of this industry meeting. Anyone with recommendations for keynote speakers, conference themes or special events can send their ideas to our colleagues at SEMI or to Michael Wright at Applied Global Strategies.
---
Michael A. Fury, Ph.D, is senior technology analyst at Techcet Group, LLC, P.O. Box 29, Del Mar, CA 92014; e-mail [email protected]