February 28, 2011 — Brewer Science Inc., advanced lithography materials supplier, launched the OptiStack system of products: a combination of materials, software and process support for advanced lithography. In tandem, Brewer Science debuted the ARC 300 coating series, designed to work with OptiStack.
Brewer Science's OptiStack system offers variable n and k of the hardmask layer. The OptiStack modeling software allows for significant optimization of lithography conditions while maintaining the desired multilayer thicknesses so the customer can use existing optical proximity correction (OPC) and etch recipes.
The Brewer Science OptiStack include the broad resist compatibility of Brewer Science products, variable n and k materials that give the same lithography performance regardless of substrate by eliminating topography dispersion and underlying substrate optical constants from the OPC equation, ArF and KrF wavelength flexibility, a proprietary OptiStack simulation tool for advanced lithography process modeling, and process development support.
Brewer Science simultaneously debuted the ARC 300 coating series, a state-of-the-art ArF bottom anti-reflective coating (BARC) series designed to be optimized using OptiStack lithography simulation software. It suits various advanced ArF lithography processes and substrates with a single BARC platform.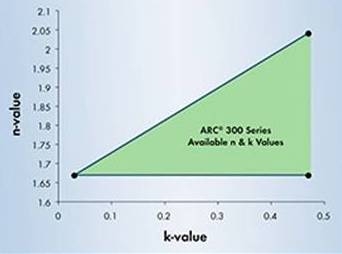 Figure. ARC 300 coating series optical property range.
The ARC 300 coating series allows for a range of n and k values in a single BARC platform. The material provides low reflectivities of less than 0.1% for various substrates and film thicknesses. The ARC 300 coating series can extend leading-edge ArF dry and immersion processes in single- and double-patterning lithography schemes.
Brewer Science will be at SPIE Advanced Lithography, taking place February 27 to March 3 in San Jose, CA, at Booth 225.
Brewer Science continuously improves leading-edge lithography products to reduce defectivity and outgassing and increase ease of line integration. The company develops materials, processes, and equipment for applications in semiconductors, advanced packaging/3D ICs, MEMS, displays, HB LEDs, and printed electronics. Learn more about Brewer Science at www.brewerscience.com.
Subscribe to Solid State Technology/Advanced Packaging.
Follow Solid State Technology on Twitter.com via editors Pete Singer, twitter.com/PetesTweetsPW and Debra Vogler, twitter.com/dvogler_PV_semi.