March 3, 2011 — Carl Zeiss introduced a new production tool aimed to improve registration and overlay of advanced photomasks. RegC is based on ZEISS femtosecond-laser technology. RegC enables correction on high-end photomasks for remaining registration errors after the pattern generation process. Current results show registration improvements over 50% in advanced lithography.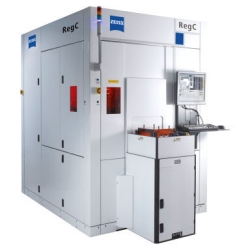 "This application is targeted to customers who want to beat the lithography roadmaps for overlay and registration, in conjunction with double patterning or other advanced lithography schemes," states Guy Ben-Zvi, managing director of Carl Zeiss SMS Ltd. in Karmiel, Israel. "The RegC system builds a closed-loop application with the ZEISS PROVE registration metrology tool. We developed this system after an extensive survey of our high-end customer base, which had clearly pointed out the emerging need of the industry."
RegC can be used to significantly correct the registration errors of any single photomask or groups of photomasks of the same mask set towards optimal wafer overlay values. Even the small pellicle impact on the overall registration budget can be corrected, as the RegC process can be run after the pellicle has been applied.
Fast turnaround time and seamless integration in any advanced mask manufacturing cycle allow users to save pattern generation tool time. The need of rewriting masks due to registration errors can be avoided and the mask process flow in the mask shop does not need to be interrupted.
Carl Zeiss presents the new tool RegC on SPIE Advanced Lithograpy in San Jose, CA, February 27 through March 4, 2011.
More SPIE news:
Subscribe to Solid State Technology/Advanced Packaging.
Follow Solid State Technology on Twitter.com via editors Pete Singer, twitter.com/PetesTweetsPW and Debra Vogler, twitter.com/dvogler_PV_semi.