By Debra Vogler, senior technical editor

March 3, 2011 — Nigel Farrar, VP, marketing & lithography technology, Cymer, provides an update on extreme ultra violet (EUV) source technology — including training and next-generation timelines — in a podcast interview at SPIE Advanced Lithography conference (2/27-3/3/11, San Jose, CA).

Listen to Farrar's interview: Download (iPhone/iPod users) or Play Now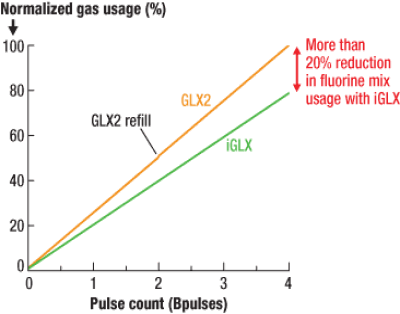 Figure 1. Lithography tool cost of ownership reduction. Cymer's iGLX technology enables reduced cost of ownership by using 20% less fluorine mix over GLX and GLX2. SOURCE: Cymer.
Deep ultra-violet (DUV) lithography highlights include enhancements to Cymer's ArF immersion laser, the XLR600ix. At SPIE, Cymer presented an update that further extends gas lifetime (Fig. 1). By doubling the gas life time, Cymer has enabled up to two months between gas refills (depending on the pulse usage).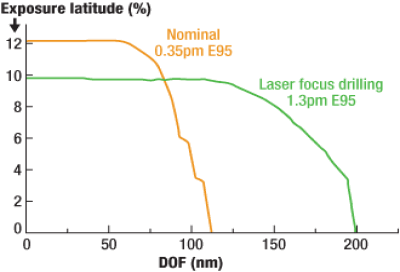 Process window for 1.35NA ArFi exposure for norminal light-source bandwidth (0.35pm E95) and a focus drilling spectrum (1.3pm E95)
Figure 2. Depth-of-focus (DOF) improvements with focus drilling technology. For this simulated structure with pitch of 165nm, a 60-70% DOF increase can be obtained using the Cymer Focus Drilling spectrum (at 1.3pm E95) over the nominal light-source operation (0.35pm E95) at best dose. SOURCE: Cymer.
Cymer also introduced focus drilling (Fig. 2), which uses a broad bandwidth for contact and via layers to enhance depth-of-focus.
Visit the Lithography Center on Solid State Technology here.