March 16, 2011 — While 2010 was a banner year for the microelectromechanical systems (MEMS) business, with overall growth of 18%, 3 Europe-based companies managed to outperform the market, according to new IHS iSuppli research by analyst Jérémie Bouchaud.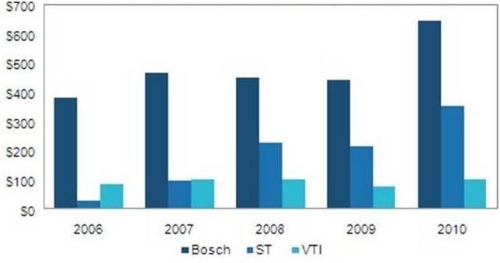 Figure. MEMS revenues for top European companies, not including MEMS foundry revenues. (Millions of US dollars). Source: IHS iSuppli March 2011.
IHS estimates that STMicroelectronics N.V. (STM) revenue for MEMS sensors (not counting its foundry work for inkjet printers) exceeded $353 million in 2010, up 63% from $216 million in 2009.
STMicroelectronics' strong performance was boosted by $117 million in revenue for its gyroscope business, which also helped the company's overall consumer MEMS segment achieve 85% revenue growth in 2010. New STM MEMS microphones and MEMS pressure sensor solutions for handsets and tablets paved the way for further growth. Collective revenue from these MEMS products should contribute to STMicroelectronics' bottom line, beginning in 2011.
Outside of the consumer MEMS segment, STMicroelectronics made significant gains in the high-g accelerometer business for airbags because of a key customer in this area.
The Bosch Group GmbH reached $643 million in MEMS revenue in 2010, up 46% from $440 million in 2009. Consumer revenue for Bosch grew by 51% in 2010 to reach $120 million, up from $80 million in 2009, with accelerometers for handsets as the main source of revenue in this area. Bosch remained the fastest growing company in the consumer accelerometer area, ahead of all its competitors in the consumer MEMS segment. Competitors ADI Inc. expanded 30%; Kionix Inc. grew by 22%; and STMicroelectronics rose by 10%.
Bosch's consumer growth should continue, as IHS believes that the company is preparing to launch a 3-axis gyroscope in 2011, even though the company has not made any official comments.
IHS estimates that Bosch's automotive MEMS revenue grew by 45% in 2010 from $360 million to $523 million, compared to 27% for the rest of the MEMS market. Passenger car production rebounded in 2010, even in countries like Germany, which were expected to be stagnant after the conclusion of the "cash for clunker" schemes. Luxury cars also saw sales increase, spurring a rise in the adoption of mandated technologies such as electronic stability control (ESC) systems, which use MEMS sensors. German cars, especially luxury vehicles that have high electronics content and lots of sensors, are selling well in Asia, particularly China.
Bosch has a very strong position in pressure sensors, especially low-pressure silicon MEMS types used for manifold air pressure sensors in China. Bosch supplies this type of sensor to many cars in the luxury and mid-priced segment. Pressure sensors are being fitted to cars based on the requirement for EURO 4-equivalent emissions regulations set for many Chinese cities. Mandates for safety systems in vehicles, such as ESC systems, are accelerating and beginning to approach full fitment rates for a new series of vehicles in Europe, the United States, Australia, Canada and South Korea in 2011/2012.
While Bosch's auto MEMS segment won't grow at the same rate as last year, there is no apparent supply situation that will affect the company's growth.
Finland-based VTI Technologies Oy also enjoyed strong growth in MEMS, reaching $100 million in 2010, up 35% from $75 million in 2009. VTI attained its previous high level mark of 2007, thanks to a solid performance in the automotive MEMS segment.
Already the No. 1 supplier of low-g accelerometers, VTI began shipping gyroscopes for automotive ESC to Continental in 2010. It also maintained dominance in the medical accelerometer space last year.
Much like Bosch, VTI in 2011 will benefit from the automotive mandates for safety systems, such as ESC systems, in the regions where the mandates are being implemented.
IHS iSuppli provides MEMS and Sensors Research at http://www.isuppli.com/MEMS-and-Sensors/Pages/Products.aspx?MWX
Also read:
Panasonic, Seiko Epson lead MEMS resurgence in Japan
Follow Small Times on Twitter.com by clicking www.twitter.com/smalltimes. Or join our Facebook group