March 14, 2011 — This update on the Japan earthquake includes information from individual companies operating in Japan.
---
March 11, 2011 — An earthquake of magnitude 8.9 struck Friday March 11, at 2:45 PM off the coast of Japan's main island, Honshu. Jim Handy, a director of Objective Analysis semiconductor market research, shares his insights into Japan's semiconductor fabs and the quake's impact range.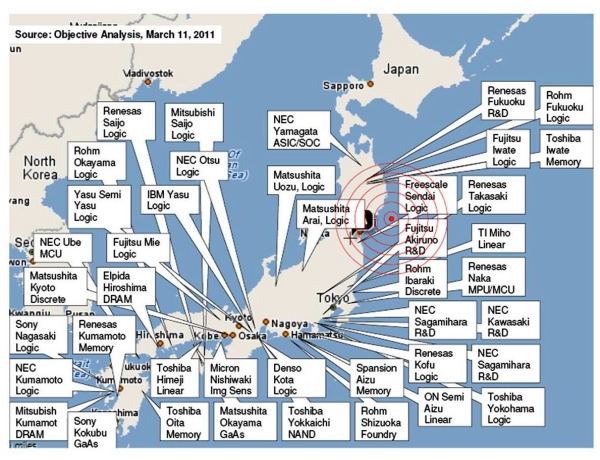 The Japan earthquake was preceded by a 7.3 temblor on Wednesday near the same area, about 70km off the coast near the city of Sendai. A 6.6 magnitude aftershock also occured. (Visit Google's Japan earthquake crisis resource page here).
Objective Analysis' map, created in 2007, shows most of Japan's semiconductor fabs, with today's earthquake epicenter in northern Japan highlighted. The map will be updated soon with newer fab information. IHS iSuppli points out that about 60% of the global total supply of silicon to make semiconductor chips comes from Japan, though the industry is concentrated farther south and west of the earthquake and tsunami disaster areas.
Listen to Jim Handy's interview: Download (iPod/iPhone users) or Play Now
While detailed damage assessment is still in early stages, Jim Handy, speaking with senior technical editor Debra Vogler, says that significant structural damage has occured as far south as Tokyo, Japan. There are a number of fabs in northern Honshu that could be severly impacted. Learn more at www.Objective-Analysis.com
Semiconductor company updates:
Freescale Semiconductor has told Solid State Technology that they evacuated the Senia 6" wafer fab, seen on the map closest to the epicenter of Japan's quake, and do not yet have building damage reports. "We have assembled our emergency task force and are in the process of monitoring and assessing the situation. Our first concern is with all the members of our Freescale family and to ensure the safety of our staff in all our facilities," reported Freescale Semiconductor's representative.
The Samsung/Toshiba fab in Yokkaichi, Japan, supplies over 40% of the world's NAND flash and DRAM chips. While it was stopped during the earthquake, the fab is back up and running. This could affect production and semiconductor supply for up to a couple months. iSuppli reports that the two major DRAM fabs in Japan, operated by U.S.-based Micron and Japan's Elpida, have not been directly affected, according to preliminary indications from IHS iSuppli contacts. Read IHS iSuppli's preliminary assessment of the Japanese earthquake's impact here.
The epicenter of the powerful earthquake was approximately 500 miles from Yokkaichi, Mie Prefecture, Japan, the location of the two Toshiba-SanDisk joint-venture semiconductor manufacturing plants, Fab 3 and Fab 4. Both fabs were down for a short period of time due to the earthquake and were back up and operational as of Friday morning, Pacific Time. There were no injuries to SanDisk employees based in Japan. SanDisk's current assessment is that there has been minimal immediate impact on wafer output due to the earthquake. SanDisk continues to assess the situation for any potential future impact that may arise from issues related to Japanese infrastructure and the supply chain.
Taiwan Semiconductor Manufacturing Co. (TSMC, TAIEX:2330), contract chip maker, said that its Japanese suppliers were not seriously affected by the earthquake. TSMC said it had a sufficient safety stock of silicon wafers and that its sources of supply remained stable because not all of its suppliers' production facilities were located in disaster zones. The company also said that it had not yet heard about the earthquake's impact on its customers. (via Asia Zone)
Shin-Etsu Handotai Co., which has a factory in quake-affected Fukushima prefecture, had production lines temporarily closed following the disaster.
United Microelectronics Corp. (UMC), the world's second-largest contract chip maker, said its Japanese silicon wafer partners have production bases outside Japan, but it also acknowledged that the full impact of the natural calamity had yet to be assessed. UMC's subsidiary in Japan, UMCJ, was partially affected by the earthquake but was returning to normal as power was gradually restored, UMC said.
Powerchip Semiconductor Corp., a major local computer memory chipmaker, was not so optimistic and believed that the supply of silicon wafers would be affected. (via Central News Agency, Taiwan)
Handy predicts that Renesas fabs could be the most set back by the Japan earthquake, with several in the dangerous area near the epicenter.
Objective Analysis anticipates phenomenal price swings and large near-term shortages as a result of this earthquake. The Japan earthquake and tsunami could result in significant shortages of certain electronic components, potentially causing pricing for these devices to increase dramatically, adds IHS iSuppli. Components impacted will include NAND flash memory, dynamic random access memory (DRAM), microcontrollers, standard logic, liquid-crystal display (LCD) panels, and LCD parts and materials. Pricing for higher-density NAND flash already has climbed by as much as 10% on the spot market (small quantities). However, IHS does not expect price volatility for OEM DRAM customers and it is likely that the average selling price for major OEM customers on the contract market will hold steady for sustained periods of time until the supply chain moves past the infrastructure challenges. Spot-market DRAM pricing also is surging, rising by as much as 7% since Friday. Contract pricing is holding steady for the time being, but modest increases are likely as contracts are renegotiated.
Smaller earthquakes in 2008 and 2007 have caused concern for Japan's semiconductor industry. In 1999, a major earthquake in Taiwan (7.6 magnitude) stopped fab operation. In 1989, the Loma Prieta earthquake (6.9) interupted semiconductor production in Silicon Valley.
Demand will be impacted as well since many electronics manufacturers are in Japan, and their consumption of semiconductors will be halted until earthquake damage is repaired. IHS iSuppli predicts that shortages will appear in late March/early April, and dissipate sometime in the third quarter.
Objective Analysis is contacting semiconductor companies in Japan and updating its findings after this major natural disaster.
"Japan's place in the world's memory chip and LCD industries is very important," analysts at Eugene Investment & Securities Co. said in a report. "If Japanese IT companies experience production obstacles due to the supply of raw materials, severe power outages or transportation issues after the quake, it is likely to have a big impact on supply and demand conditions of the semiconductor and LCD industries." (via Yonhap News Agency, South Korea)
Also read:
Japan earthquake update: List of facilities impacted
Japan earthquake raises questions of solar supply and replacing nuclear power
Vogler's blog post, All the best to our friends and colleagues in Japan
and Electronics in Japan: Earthquake impact from IHS iSuppli
Subscribe to Solid State Technology/Advanced Packaging.
Follow Solid State Technology on Twitter.com via editors Pete Singer, twitter.com/PetesTweetsPW and Debra Vogler, twitter.com/dvogler_PV_semi.