March 15, 2011 — Novellus Systems (NASDAQ: NVLS) launched the VECTOR Excel, a modular system developed for advanced technology nodes that require pre- and/or post-processing of dielectric films, such as diffusion barriers. The innovative interface engineering approach developed by Novellus results in reduced RC delay constant without new materials into the back-end-of line (BEOL) integration scheme.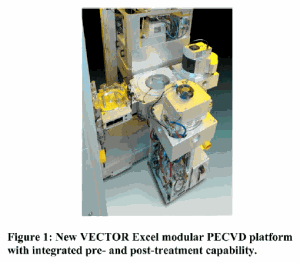 In technology nodes where the inter-metal dielectric (IMD) materials have a dielectric constant of 2.6 or higher, an in-situ plasma treatment using ammonia or hydrogen typically preps the surface for dielectric diffusion barrier deposition, removing the copper oxide layer and any residue from the chemical mechanical planarization (CMP) slurry. With the emergence of porous, ultra-low-k (ULK) materials at the 28nm technology node, a new integration challenge has developed where the porous films are susceptible to carbon loss upon exposure to this in-situ plasma (Figure 2). A corresponding increase in the effective dielectric constant was observed. Novellus developed new interface engineering technologies that minimize the damage to ULK materials in the VECTOR Excel modular architecture. Available technologies include a remote plasma pre-treatment module (CLEAR) and a dual pre-heat/pre-treatment spectral irradiance module (LUMIER) that can be configured with various lamps with different frequencies.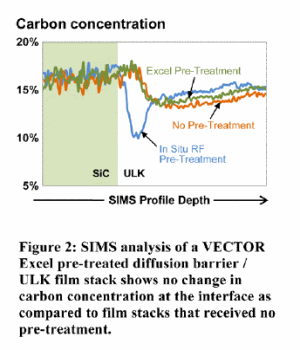 "The interface between diffusion barriers, IMD layers and copper interconnects is critical in determining the BEOL interconnect delay and reliability, including electromigration and time-dependent dielectric breakdown," said Kevin Jennings, senior vice president, Novellus PECVD Business Unit.
Figure 2 shows that the VECTOR Excel pre-treatment processing results in no carbon removal from the ULK layer. Data gathered also confirms that these pre-treatment options completely remove copper oxide and CMP residue. The adhesion strength of the diffusion barrier to underlying layers is equivalent to results obtained using a conventional in-situ plasma treatment. Figure 3 shows that the VECTOR Excel integrated process results in a 4% reduction in capacitance as compared to traditional in-situ plasmas. This "zero damage" process enables interconnect RC delay reduction (device speed increase) without introducing new materials into the BEOL dielectric stack.
The PECVD module of VECTOR Excel uses Novellus' multi-station sequential deposition (MSSD) architecture for wafer-to-wafer, within-wafer and point-to-point repeatability, with each wafer progressing through a single deposition path. This new modular platform achieves a 15% capital productivity improvement by moving the pre- and post-processing steps out of the critical throughput path, Novellus reports.
The design footprint is comparable to VECTOR Express. A typical installation of VECTOR Excel systems for 20,000 wafer starts results in a 26% reduction in overall fab footprint as compared to competitive offerings with equal production output.
Novellus Systems Inc. (Nasdaq: NVLS) provides advanced process equipment for the global semiconductor industry. For more information, visit www.novellus.com.
Subscribe to Solid State Technology/Advanced Packaging.
Follow Solid State Technology on Twitter.com via editors Pete Singer, twitter.com/PetesTweetsPW and Debra Vogler, twitter.com/dvogler_PV_semi.