March 8, 2011 – Hitachi Global Storage Technologies (GST) is being bought by Western Digital in a ~$4.3B cash-and-stock deal that will cement the "dominant" top supplier of hard-disk drives (HDD).
For Hitachi, the deal is "a significant milestone" in its shift away from consumer electronics and toward growth in larger infrastructure businesses such as railways and power generation, notes the Nikkei daily. It bought the HDD operation from IBM in 2003 for ~$2B but struggled to find profitability. "To continue delivering solid performance next fiscal year and beyond, we need to secure ample funding to back up our business," said company President Hiroaki Nakanishi, quoted at a press conference. "The HDD market is characterized by rapid changes and constant technology upgrades, and it requires a lot of investment."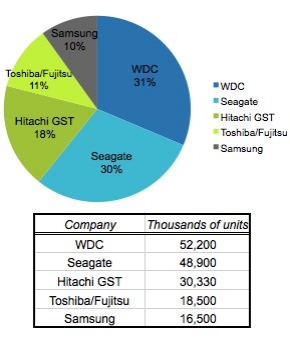 Global HDD market share shipments, 4Q10 (% of unit shipments in thousands). (Source: IHS iSuppli)
For Western Digital, the deal solidifies its top spot in the HDD market with roughly 50% share (it already had ~31%). Seagate would keep its No.2 slot with ~30%, but instead of barely trailing WDC now finds itself staring at a gulf of more than 33K unit shipments (as of 4Q10 data). Punishing pricing pressure in the HDD market also played a role — Western's 4Q earnings were chopped nearly in half on -5% lower sales, even though shipments were up more than 5%. (Overall HDD shipments for everyone are down, expected to slip -4% in 1Q11 to 160.9M units, partly impacted by the rise of tablets and the growing use of cloud storage.)
Another key to this M&A is that it gives WDC significant inroads into the enterprise HDD sector. WDC is very heavily leveraged to consumer HDDs (desktop PCs, laptops, set-top boxes, gaming consoles), while rival Seagate has a 65% mix toward enterprise, and Hitachi GST stands at 27%. "Hitachi GST brings WDC the essential technology, product portfolio and experience required to compete in the enterprise segment," such as 3.5-inch and 2.5-inch HDDs with SATA and SAS interfaces, explains Fang Zhang, storage systems analyst at IHS, in a research note.
And there's an angle to this deal involving solid-state drives (SSD), points out Jim Handy of Objective Analysis. Western Digital, which two years ago bought SSD maker Silicon Systems, approaches SSDs with offerings more targeting military and industry, but little exposure to the enterprise side of SSDs, he notes. Hitachi, meanwhile, last year started rolling out the first products from a 2008 deal with Intel to produce SSDs using Intel's SSD architecture and its HDD interfaces (Hitachi would focus in SAS and fibre channel SSDs, with Intel serving the SATA market). So the Hitachi GST acquisition adds an enterprise SSD flavor to its storage offerings, as well.
As with any M&A, there likely will be bumps in the road to integrating the two companies. WD is an industry leader in keeping its manufacturing and materials costs down, while Hitachi GST "suffers from a disjointed international production system which has given the company high costs," Handy notes — look for efforts toward immediate improvement on this front, which hopefully will minimize customer leakage to competitors, he notes. (The deal appears not to involve another Hitachi division working with HDDs, Hitachi Data Systems, which makes storage arrays, Handy points out.)
The HDD market now boils down to only four HDD companies, with the combined Western Digital-Hitachi GST taking nearly half the market (though in reality the marketshares won't perfectly add up, there will be some attrition). Look for the other players to review their options and possibly form alliances or M&A over the next year or two, Handy predicts.
Bottom line: Western Digital widens its offerings from capacity HDDs to high-speed enterprise HDDs, and gains "a potentially strong position in SSDs," Handy notes.