April 4, 2011 – February semiconductor sales slipped -1.1% from January to $25.2B (up 13.6% from Feb. 2010), what the Semiconductor Industry Association calls "in line with historical seasonal trends." Note that the data does not take into account the devastating March 11 Japan quake and tsunami (data from the next few months should be very revealing). SIA president Brian Toohey acknowledged that the SIA is still monitoring the "potential impacts on the supply chain," while applauding the various contributions from its member companies in humanitarian and financial aid.
The SIA's final January numbers were down slightly from preliminary tallies, to $25.48B (vs. $25.52B), with each region except Japan losing a point or two.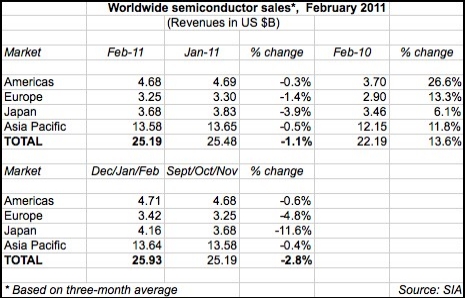 Looking at the actual data (not the 3-mo. average, meant to smooth some of the m/m volatilities), February sales were down nearly -7% in February vs. January ($23.7B vs. $25.4B). IC unit shipments slipped even more (-10.3% to 50B) but were partly offset by rising ASPs (4.2%). January IC sales had showed "shocking" resiliency for a typically soft calendar-opening quarter, so the February slippage would partially offset that — but still, assuming typical Feb-March trends, 1Q11 and possibly full-year 2011 could still come out bullish for the semiconductor industry.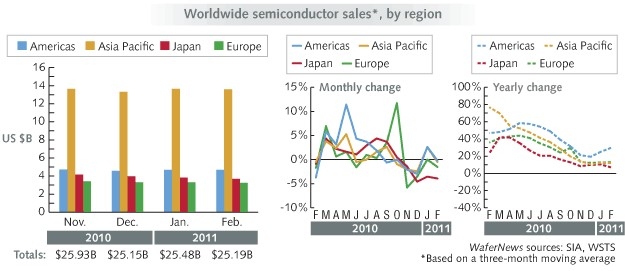 Pulling apart the SIA's February actual data, Credit Suisse's John Pitzer notes that January sales were higher than seasonal in part due to "strong prebuilds" ahead of the Chinese new year, strength in smartphones and tablets, Apple's supply chain, and overall corporate spending. February data, however, is below typical seasonal (typically single-digit growth in sales, units, and ASPs). If March comes in around normal seasonality (19% M/M) that would close 1Q11 at around 4% growth; extrapolating seasonal trends from there to year's end gives 7% IC sales, he notes. "While cyclical metrics have began to normalize, we would highlight that IC unit shipments (ex-memory) remain 12% below long-term shipment trends," he adds.