By Debra Vogler, senior technical editor
April 25, 2011 — Imec researchers will present a paper titled "Carbon nanotube interconnects: electrical characterization of 150nm CNT contacts with Cu damascene top contact" at the IITC 2011 Conference (May 9-12, Dresden, Germany).
Dr. Marleen van der Veen, senior research scientist at imec discussed the research results and their significance in this podcast interview: Download or Play Now
Van der Veen highlighted the process technologies and steps used to grow the carbon nanotubes (CNTs) and the properties and attributes of the multi-walled CNTs (MWCNT) that resulted (Fig. 1). As noted in the paper, the lower slope for the Al2O3 pre-coated CNT implies a three times better CNT resistivity than the SiO2-coated ones.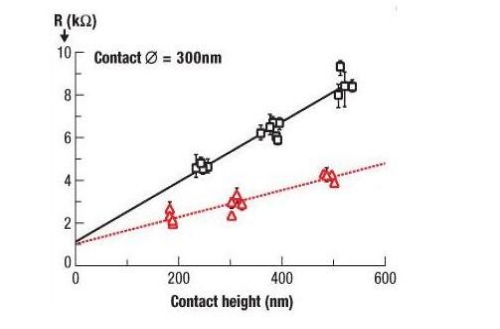 Figure 1. Single CNT contact hole resistance as a function of the contact height for CNT coated with SiO2 (solid line) and Al2O3/SiO2 (dotted line).
The researchers took the integration process for 300mm contacts and transferred it to 150nm contact holes compatible with the module for 130nm device technologies (Fig. 2). The researchers maintain that because CNTs grown from different recipes and processed under different conditions can be rapidly benchmarked, they believe that their work will be important for manufacturing CMOS-compatible CNT interconnects, as well as for improving CNT interconnect resistance in advanced CMOS interconnects.
a)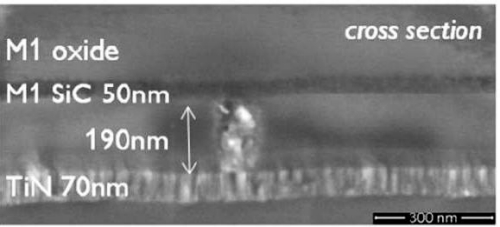 b)
Figure 2. SEM images from different stages of the integration in 150nm contact holes a) before damascene litho and b) after barrier deposition and Cu fill.
More IITC previews:
IBM IITC preview: BEOL interconnect tech for <22nm
Beyond ball shear test: Microprobing chip/package stress at Stanford