April 7, 2011 – BUSINESS WIRE — CCID Consulting Co. Ltd. (HKSE: 08235), China-based ICT research and management consulting firm, released its 2010-2011 Survey on China's OLED Industry Development at Consumer Electronics Market China 2011 this March in Suzhou.
OLED technology
The CCID survey indicates that the small-sized organic light emitting diode (OLED) technology has become mature and is entering the mobile phone market in a fast manner. OLED featuring self-luminosity, ultra thinness, fast response, wide viewing angle and low power consumption has helped the OLED-screen mobile phones gain great popularity. OLED has initially established its position as the core of the third-generation display. With technical advancement and breakthroughs in the mass production of large-sized OLED, the industry will embrace a new era of larger-sized OLED. Industry analyst firm NanoMarkets released "OLED Lighting Markets Asia-2011," which says the market opportunities in Asia for OLED lighting will generate $2.1 billion by 2016.
iPhone played a significant role in driving the popularity of large-sized smart phones and enabled the debut of OLED screens in the market. The active OLED (AMOLED), in particular, is heavily dependent on high-end mobile phones and larger-sized application consumption. The sales revenue of AMOLED has continued to grow since it beat PMOLED in 2009.
The market has been expanding with the technical advancement and application upgrades. According to CCID Consulting statistics, supported by demand for mobile phones and application products including MP3/MP4, OLED display screen market has been seeing a rapid growth since 2005. In 2010, China's OLED shipment reached 1.352 million sets, up 38.2% year-on-year, which was attributable to both the growing market demand and the increase in the manufacturers' capacities.
Currently, most of the OLED panel manufacturers are located in Japan, South Korea and Taiwan. NanoMarkets' report states that Japan will dominate the OLED lighting business through 2014 despite lingering issues from the earthquake and tsunami. Japanese consumers have greeted LED lighting enthusiastically and will do the same as OLED lighting gets onto retail shelves. Meanwhile, Japanese firms are taking up key positions in every part of the worldwide OLED lighting supply chain from design and manufacture through to wholesale distribution. Sales of OLED lighting in Japan are expected to reach $1.1 billion by 2016.
Korea is early in its embrace of OLED lighting and NanoMarkets predicts sales of only reach $230 million by 2016. But, the influence of both Samsung and LG cannot be understated as both have made a strong commitment to OLED lighting and NanoMarkets notes how Samsung's strong international brand has brought OLED displays into the mainstream. The firm sees great potential for OLED lighting from Samsung's involvement in the technology.
With the launches of Samsung SDI's world's first AMOLED panel, Sony 11" AMOLED TV and LG's 15"AMOLED TV, the manufacturers in Japan, South Korea and Taiwan have strengthened their competitiveness in OLED market and also gained a favorable position in the AMOLED market, says CCID. Besides, other manufacturers including LG Display, CMEL, TMD and Samsung Electronics have also accelerated their AMOLED technology development.
Based on its long-term research on the status and development trends of the OLED industry, CCID Consulting forecasts that in the three years to come, the demand for OLED panels will see a rapid growth as the demand for consumer electronics continues to expand.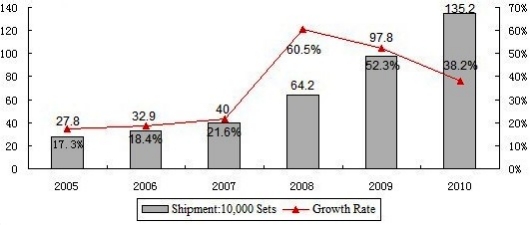 Figure. Shipment and growth rate of China's OLED industry, 2005-2010 Source: CCID Consulting, February 2011
China
With the support of China's Ministry of Industry and Information Technology (MIIT), OLED R&D in mainland China has achieved a number of breakthroughs. In October 2008, Visionox, established by Tsinghua University, completed the first OLED mass production line in Kunshan City of eastern China's Jiangsu Province, and started the mass production of small-sized OLED display screens.
At the end of 2010, small-sized OLED manufacturers in mainland China included Visionox, Shanwei Truly, Sichuan CCO and IRICO. China's first AMOLED medium experimental line has been commissioned in Kunshan, which acquired all the required production techniques at the end of 2010. Shanghai Tianma and IRICO, respectively, are in process of constructing G4.5 AMOLED production lines, with debut of mass production expected within 2011, while BOE and Sichuan CCO are also actively engaged in AMOLED R&D projects.
OLED requires planning to integrate resources, facilitate innovations, direct various enterprises to enter the OLED industry chain and grant financial support to achieve sustainable development of the industry in China. Although the addressable market for OLED lighting in China is limited, NanoMarkets expects the Chinese OLED lighting market to reach $420 million by 2016. OLED lighting markets and manufacturing in China are expected to benefit from current Chinese industrial policy which emphasizes the need to develop high-tech industries to serve the domestic Chinese market.
Governmental support continued in 2010 on the basis of the Planning on Adjusting and Revitalizing the Electronic Information Industry issued in 2009, including the MIIT's special funds for the electronic information industry and industrial demonstration bases, as well as Ministry of Finance's tax policies on new display manufacturers' imported materials.
So far, China has not yet formed its OLED industry chain, without any domestic full-set OLED manufacturing equipment producers and with key equipment and full-set equipment technologies dominated by the Japanese, South Korean and European enterprises. It lacks raw materials including indium tin oxide (ITO) glass, photoresist, desiccant and UV curing adhesives for packaging. Meanwhile, China's development of AMOLED techniques is facing great difficulty due to the backward TFT technologies, inferior panel techniques and inadequate management.
Other weak points of China's OLED industry include: limited financing channels due to the immaturity of China's capital market; inadequate basic research, industry standards, and resouces integration; and development and management talents are badly needed.
As China did not enter the CRT and LCD arena at the early stage and failed to develop its core technologies and competitiveness, the country could only join the industry's low-profit assembling and testing sections with its advantages of cheap labor force and strong OEM capacities. However, the emergence of OLED provides a great opportunity for China's display industry.
China is both a major producer of the world's consumer electronics and it is the world's largest OLED application market. In this market, more than 45% of the IT products are related with display devices; the output of mobile phones in mainland China accounts for over 50% of the global total; the output of MP3/MP4 in mainland China accounts for over 90% of the global output; and the output of other consumer electronics in mainland China accounts for over 50% of the global total. As the cost further goes down and the capacity continues to grow, the OLED panels will be more widely used in other consumer electronics. For instance, the domestic brand Lenovo's LePhone has adopted a AMOLED screen, marking the debut of OLED on domestic mobile phones.
Driver ICs
Many companies are engaged in the design and production of OLED driver ICs worldwide. The OLED active driver panel has limitations such as high prices and poor compatibility with silicon materials and organic materials, which has become a bottleneck slowing the development of the global OLED industry. China depends on driver IC imports and lags behind other countries in large-sized and color screen technologies due to its outdated equipment and limited investment. In addition, the industry's key patents are all held by foreign companies. For example, Kodak and Idemitsu Kosan hold the fundamental patents of small molecule OLED materials and structures; CDT and DuPont hold the fundamental patents of polymer PLED materials and structures; SANYO, Sharp, SEL and Eldis, South Korean Samsung, LG and Industrial Technology Research Institute hold certain core patents of active drivers.
CCID Consulting Co. Ltd. is a Chinese consulting firm directly affiliated to China Center for Information Industry Development (CCID Group). Learn more at
http://en.ccidconsulting.com
NanoMarkets tracks and analyzes emerging market opportunities in energy and electronics markets created by developments in advanced materials. Visit www.nanomarkets.net
Subscribe to Solid State Technology/Advanced Packaging.
Follow Solid State Technology on Twitter.com via editors Pete Singer, twitter.com/PetesTweetsPW and Debra Vogler, twitter.com/dvogler_PV_semi.