April 1, 2011 — Solid state non-volatile memory (NVM) chips, which retain data when the power is off, are expected to see phenomenal growth in the next five years. According to a recently published report from iRAP Inc., ET-114: Advanced Solid-State Memory Systems and Products: Emerging Non-volatile Memory Technologies, Industry Trends and Market Analysis, the global market for emerging non-volatile random access memory products was projected to have reached $115 million in 2010.
This market is expected to increase to $1.6 billion by 2015 at an average annual growth rate (AAGR) of 69% through the forecast period.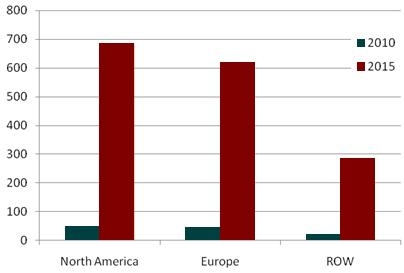 Figure. Market share for emerging advanced solid state non-volatile random access memory products by region, 2010 and 2015. ($ Millions) Source: iRAP, Inc. April 2011.
Regionally, North America captured about 42% of the market in 2010, followed by Europe at 36%, and the rest of the world (ROW) with 22%, dominated by Japan, Korea and China.
Combining medium-speed random access memory for continuously changing data, a high-speed memory for caching instructions to the CPU, and a slower, non-volatile memory for long-term information storage when the power is removed into a single memory has been a long-standing goal of the semiconductor industry.
Seven emerging non-volatile memory technologies such as FERAM, phase change random access memory (PCM, PC-RAM, PRAM, OUM), magneto-resistive RAM (MRAM, STT RAM, Race Track Memory), resistance switching RAM (RRAM, ReRAM, CB-RAM, PMC-RAM, Nanobridge RAM CMOx, memistors), zero capacitor (ZRAM), quantum dot RAM and polymer printed memory are contributing to this growth.
The market for emerging non-volatile random access memory used as an embedded system on chip (SOC) cards in 2010 was the highest. This is followed by RFID tags used in goods, which are transported by high-speed detection conveyors, as in airports and smart airbags used in automobiles. The remaining four market applications are radiation-hardened memory in aerospace and nuclear installations, printed memory platforms such as smart cards, games, sensors, display, storage-class memory network and high end smart mobile phones.
Among the seven emerging non-volatile random access memory technologies covered in this report, in 2010 the potential market for zero capacitor (ZRAM) was highest. The polymer printed memory market in 2010 was next highest, followed by ferromagnetic RAM as a distant third.
In 2015, phase change memory (PCM, PC-RAM, PRAM, OUM) will be highest. FeRAM will be next highest, followed by zero capacitor RAM (ZRAM).
MRAM promises a high capacity, next-generation memory that can replace SRAM/flash combos and battery-backed up RAM as well as supplying improved non-volatile memory solutions for high-end mobile products. MRAM is already in the sampling stage. Freescale has just recently moved MRAM into volume production, and there are as many as 20 firms actively pursuing this opportunity. Meanwhile, important firms such as Intel, Freescale, Micron, Samsung, STMicroelectronics are beginning to settle on new technology platforms for the post-flash era and are finding ovonic and nano-crystalline memories increasingly satisfactory.
Region
2010 ($ Mil.)
%
2015 ($ Mil.)
%
AAGR- 2010-15
North America
48.3
42
684
43
69.8
Europe
46.0
40
620
39
68.2
ROW
20.7
18
286
22
69
Total
115
100
1590
100
69

Table. Global market for emerging advanced solid state non-volatile random access memory products by region through 2015. ($ Millions) Source: iRAP, Inc.
More details of the report are available from Innovative Research and Products (iRAP), Inc., P.O. Box 16760, Stamford, CT 06905. Visit http://www.innoresearch.net/reportlist.aspx?cid=4 or contact iRAP at 203-569-7909; [email protected]
Subscribe to Solid State Technology/Advanced Packaging.
Follow Solid State Technology on Twitter.com via editors Pete Singer, twitter.com/PetesTweetsPW and Debra Vogler, twitter.com/dvogler_PV_semi.